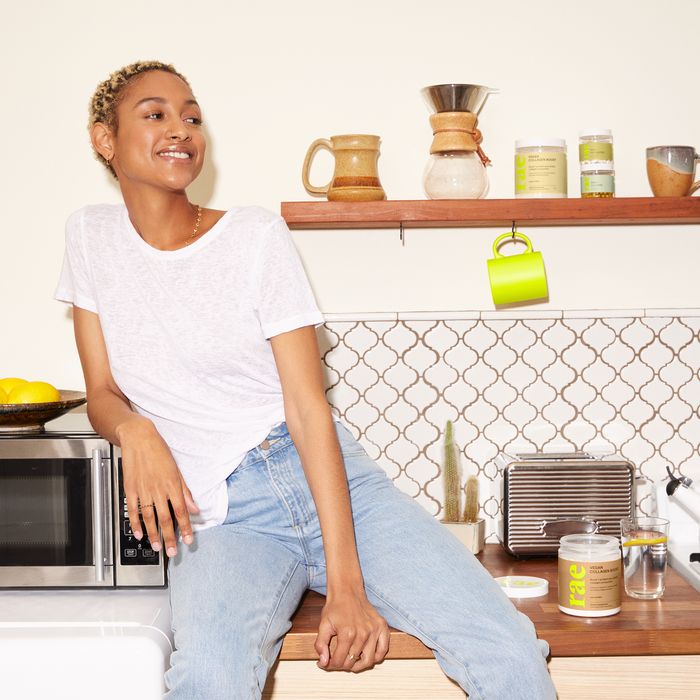 We're not really ready to trade sunny beaches and socially-distanced backyard hangs for sweaters and shorter days — but our calendar says the last days of summer are just around the corner. The good news is that the seasonal switch doesn't mean it's time to say goodbye to fresh, radiant skin. With their range of pure, powerful nutritional supplements, Rae is here to help you keep your summer-y glow shining through fall, and beyond.
Let's start with the basics: Many factors affect how your skin looks, behaves, and feels. Internal processes like hormonal shifts and digestion, as well as external things like pollution and sun exposure, all play a part in skin's resilience and radiance. You've heard it before, but whole foods, plenty of water, and a good night's sleep should be part of your skincare routine — but let's be honest, sometimes pizza and a late-night Netflix binge is the best you can do. That's totally okay, and it's also where Rae comes in. Rae specializes in "ingestible beauty" supplements — think of these nutrient-based products as the behind-the-scenes support that helps hydrate and brighten your skin, no matter what's going on in your life.
B is for Biotin
Wondering how to boost your skincare routine without spending a fortune? Meet Rae's biotin-packed Beauty Drops. Biotin is a water-soluble (that means your body doesn't store it) vitamin that helps convert essential nutrients into energy. It's found in foods like milk, eggs, grains, and nuts, and it's a multitasker that helps strengthen skin, hair, and nails. Add one dropper of Rae's Beauty Drops to your favorite hot or cold drink every day to help nourish your skin, hair, and nails from the inside out.
Naturally Illuminate with Collagen
Collagen is a naturally occurring protein everywhere in your body — but especially in your skin, bones, and tissue — that helps your skin stay firm, glowing, and fresh. (Fun fact: Some types of collagen are stronger than steel. Less-fun fact: Your body's own collagen production starts decreasing in your twenties.)
Rae's Vegan‌ ‌Collagen‌ ‌Boost‌ ‌Powder supports your body's natural production with a powerful blend of plant-based ingredients. Containing antioxidant-rich vitamin C and bamboo (which is loaded with vitamins A, B, E, and minerals), this powder is an easy way to help keep your summer glow going strong. With two flavor options — Honey Citrus or Unflavored — Rae's collagen powder is easy to add to tea, coffee, or your drink of choice. We like it swirled into a smoothie or juice blend for a post-workout pick-me-up.
A Refreshing Skin Decision
You've heard it before: Hydrate, hydrate, hydrate. Your body needs it, and so does your skin. Rae's Hydration Drops are powered by hyaluronic acid, a molecule in skin that binds with water to help retain its moisture and keep your complexion smooth and supple. Hydration Drops also contain electrolytes — the key ingredient in the drinks you reach for after a hot yoga class or too much wine. Electrolytes help hydrate your body from the inside out — just add a dropper to your go-to beverage and feel good about treating your cells to some much-needed moisture.
Rae's formulas are designed to be safe, effective, and quickly absorbed by the body. And busy women (so basically all of us) will appreciate that products like the Vegan Collagen Boost come in powder or capsule form, so you can take them in the way that's most convenient for you. The Beauty or Hydration Drops are easy to toss in your bag so you can take them on the go, before a workout — or just at home with water at bedtime. It's about supporting you, any way you want, at any time of day.
Rae believes that beauty should be accessible to everybody, so there's no high price tag. (You can find all of the products mentioned above at your local Target.) Plus, you'll know that your purchase is doing good — Rae donates five percent of all revenue to Girls Inc., the nonprofit that inspires girls to be strong, smart, and bold through direct service, advocacy, and mentorship.
So don't stress about fall. The goal is to make it simple to bring your radiance game to the next level — every day of the year. Ready to make your summer glow last into fall and winter? Visit Rae's website for more info.
This advertising content was produced in collaboration between Vox Creative and our sponsor, without involvement from Vox Media editorial staff.