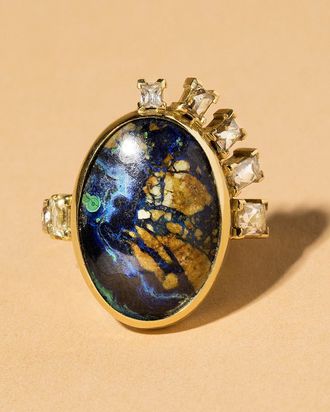 Many fashion and jewelry brands are struggling right now, but that doesn't mean that the industry hasn't found ways to support those who need help. The Brooklyn-based fine-jewelry brand Mociun is the latest to organize a fundraiser for those who have been deeply affected by the pandemic. Similar to Good Buys, the charitable, multi-brand retail platform that launched this week, jewelry designer Caitlin Mociun solicited 20 other fine-jewelry and luxury home brands to donate goods that will be put up for auction. Together with three Mociun pieces, the collective value of what's up for grabs is nearly $110,000, with the hope that generous buyers will help raise more.
"We felt that it was important for Mociun to be proactive and use our reach and contacts to give back to our community and nation," said Mociun. "There are so many people out there hurting and in need. We wanted to do something to help alleviate their burden. We turned to organizations that would get the funds we're raising right into the hands of the people who need it most."
Proceeds from the auction will go to Know Your Rights Camp, whose mission is to advance the liberation and well-being of Black and brown communities through education, self-empowerment, mass mobilization, and the creation of new systems that elevate the next generation of change leaders. Also: the Conscious Kid, an education-focused org that has since pivoted to launch its Rent Relief Fund for Black families financially impacted by COVID-19; One Fair Wage, which offers cash assistance to tipped workers and other service workers that have been laid off or unable to work at this time; and, finally, the National Domestic Workers Alliance.
The auction will take place from August 9 through 15, and bids can be placed via text message, online, or with volunteer assistance. To see what's for sale, click here.