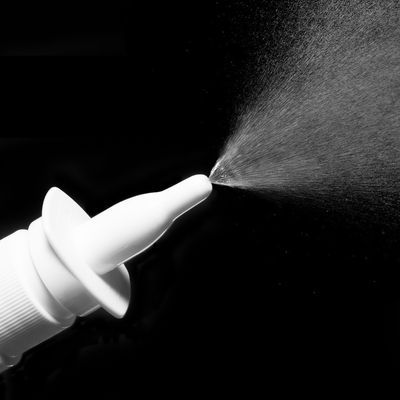 Photo: Getty Images/iStockphoto
For the first time, people with suicidal thoughts or behaviors will have access to a ketamine-like nasal spray that treats depression. On Monday, the Food and Drug Administration approved Spravato, a close chemical cousin to ketamine that was developed by Johnson & Johnson, for those contemplating suicide. (It had been approved in March 2019 for people with depression who have taken other medication without results.)
It's a significant development since suicidal patients are often excluded from medical trials due to safety concerns — a fact Gerard Sanacora, the director of Yale's Depression Research Program, called "astonishing" given that suicidal ideation is linked to major depression. And while ketamine is a somewhat controversial drug, the nasal spray's approval comes at a time when doctors are concerned about increased suicide rates amid a seemingly never-ending pandemic.
The COVID-19 outbreak hasn't been great for mental health. It's given people a lot more to stress about — job loss, illness, isolation — and taken away coping mechanisms like exercise, travel, or spending time with friends and family. Experts say the pandemic has exacerbated mental health issues for those already dealing with anxiety, addiction, depression, or PTSD, and they are especially worried about the up to 17 million Americans who suffer from major depressive disorders. Though there are no hard numbers tied to the pandemic, suicide rates have risen by 30 percent between 1999 and 2016, and mental health professionals worry that number could climb.
The hope is that Spravato could be a quick way to help someone in the midst of an urgent depressive episode. Unlike other antidepressants that can take weeks to kick in, the nasal spray reduces symptoms like sadness, hopelessness, and changes in sleep within 24 hours, according to research from Johnson & Johnson (though its ability to reduce suicidal thoughts was not statistically different from those given a placebo). The medication, which prescribed patients would take at a certified treatment center, is "potentially life changing," said Theresa Nguyen, the chief program officer of Mental Health America, in the company's press release. But not everyone is as enthusiastic.
Since the 1970s, doctors have used ketamine as an anesthetic, but it's a new and hotly debated addition to the mental health world. When Spravato was approved last year, it became the first new treatment for depression in 30 years, but some medical professionals say it has not been sufficiently studied and that long-term effects, such as physical dependence, are still unknown.
Others worry ketamine could be abused by patients, since it's also a party drug people take to reach a dissociative state known as a "K-hole." Ketamine also recently made headlines after paramedics injected the drug into Elijah McClain, the 23-year-old who died after police put him in a choke hold. Some doctors believe the injection contributed to his death.
Despite these concerns, medical experts are hopeful that taken in controlled doses under supervision, Spravato could be a lifeline for people struggling with suicidal thoughts. "People living with major depression need more options to meet their most critical needs," said Bill Martin, the global therapeutic head of neuroscience at a pharmaceutical company owned by Johnson & Johnson, in a press release. "We're proud to help redefine how we treat ongoing and acutely worsening depressive symptoms."