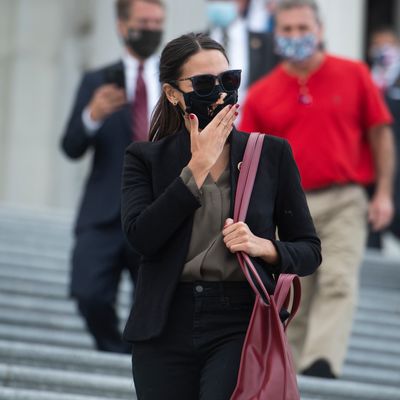 Alexandria Ocasio-Cortez carried a Telfar bag as she left the Capitol on Saturday.
Photo: CQ-Roll Call, Inc via Getty Images
Alexandria Ocasio-Cortez is a woman of the people. Like so many others last Wednesday, the congresswoman was thinking not only about the Democratic National Convention and the future of this country but also about Telfar, the New York–based fashion brand.
Most of her Instagram Stories that day were about her 60-second speech, which deftly touched upon everything from our country's colonialist roots to the economic brutality of our capitalist system. But she also took a moment to shout out designer Telfar Clemens, who founded his label in his hometown of LeFrak City, Queens, which is a part of AOC's district.
"Fun fact," she wrote. "Telfar is now known as a globally celebrated designer, but did you know this Black, LGBTQ+ designer and founder got their start in LEFRAK CITY, QUEENS?"
"That's right!" she continued. "Telfar Clemens is a HOMETOWN HERO from our district! Another NY-14 native using their talents to challenge us to question convention and imagine a different world. Our community is so proud!"
Telfar was trending again on Twitter last Wednesday thanks to the launch of the brand's 24-hour Bag Security Program, which allowed anyone who's ever wanted one of its perpetually sold-out bags – often called 'the Bushwick Birkin' – to preorder them. So maybe that's what inspired her to post. Either way, AOC knows what's up. Last Monday, she shared that she had visited local Latina designer Karen Perez of Second Wind at her factory in the Garment District, after reading about the drama around her face masks on @diet_prada.
AOC didn't mention whether or not she owns, or would be purchasing, a Telfar bag herself, but don't you think a large cobalt blue tote would go well in the Capitol Building? It's possible that the accessory, described by the brand as an "Everyday bag for Everyone," has made it to the halls of Congress before, but if it hasn't, it's about time.
Update: On Saturday, Ocasio-Cortez was photographed carrying a medium oxblood Telfar bag (so that's her color!) as she left left the Capitol. The following day, she appeared to bring the same bag with her to her D.C. office, showing her Instagram followers its contents, which included a shawl, her binders and notebooks, an iPad, a makeup bag, and a dental bag, since she now has clear braces. Based on the videos in her Stories, we can conclude that Telfar has, indeed, made it to the Capitol, and that the brand's medium-size bag can fit an incredible amount of stuff.