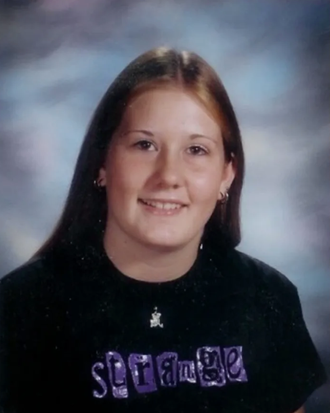 Alissa Turney.
Photo: Phoenix Police Department
In 2001, an Arizona teen named Alissa Turney disappeared. Her stepfather told police she'd run away, but for her little sister — Sarah Turney, 12 at the time — the story never quite squared. As an adult, Sarah launched a podcast, a blog, a Facebook group, an Instagram account, and finally, a TikTok account airing details about her sister's relationship with their father; incriminating conversations they'd had; and interactions with law enforcement. The TikTok seems to have done the trick. Now, nearly two decades later, Sarah Turney's father, Michael Turney, has been indicted on second-degree homicide charges by a grand jury.
"Sarah Turney, your perseverance and commitment to finding justice for your sister Alissa is a testament to the love of a sister. Because of that love, Alissa's light has never gone out and she lives on in the stories and photos you've shared with the community," Maricopa County Attorney Allister Adel said at a press conference on August 20, announcing the indictment. "This passion you have demonstrated to her during your journey is something that will keep Alissa's memory alive forever."
Alissa Turney was last seen leaving her high school.
Alissa and Sarah Turney lived with Michael Turney, Sarah's father and Alissa's stepfather, following the death of their mother from cancer. On May 17, 2001, 17-year-old Alissa left Paradise Valley High School in Phoenix, Arizona, in the middle of the day. "She poked her head into her boyfriend's woodworking class … and said her stepfather was taking her out of school early," Adel said at the press conference. Although she had plans with friends that night, "She has never been seen or heard from again."
When Sarah got home later that day, she says she found her sister's typically tidy bedroom absolutely wrecked, with a note on her dresser explaining that she'd run away to California. To Sarah, this seemed plausible. "California was this beautiful dream that many people here wanted," she told Dateline in June. "[Alissa] even wanted a white Jeep to drive around — just like Cher in the movie Clueless." Plus, they had an aunt in California, and had talked about visiting her.
Yet Alissa left her cell phone and makeup behind, details that would later strike investigators as odd. Michael Turney, a former police officer, called in a missing persons report that night.
Her stepfather was subsequently arrested — but not in connection with her disappearance.
In 2006, a Florida serial killer named Thomas Hymer confessed to murdering Alissa, but as investigators went back over her case, the pieces didn't fit. Still, ABC reported at the time, they noticed that Alissa never touched any of the money in her bank account after (allegedly) leaving home; she never used her social security number, meaning she wasn't working or enrolled in school. She never contacted friends or any other family members, either. And as they began interviewing people who knew her, strange details came out about Michael: That he set up extensive, sometimes hidden, surveillance cameras inside his home, and that he installed a passive recording device on their landline. Conveniently, the recorder had been turned off on the only morning he said Alissa had called after disappearing, Michael said. He also refused to hand over video from the day she vanished.
According to the New York Times, Detective William Anderson of the Phoenix Police Department said last week that in 2008 "additional information" led investigators to conduct over 200 interviews with people who knew Alissa. From there, police "bumbled into" a cache of weapons at Michael Turney's home, which included "26 pipe bombs and three incendiary devices." In 2010, he pleaded guilty to felony charges of unlawful possession of unregistered destructive devices, and spent seven years in prison.
Alissa had a fraught relationship with her stepfather.
Michael was, by all accounts, much harder on Alissa than he was on Sarah or any of his other children, surveilling her while she worked her job at Jack in the Box (per footage he recorded, and Sarah later posted to YouTube) and keeping her under tight control.
In 2009, Michael sat for an interview with ABC News, in which John Quinones ran through some of the things Alissa's friends had told police about her stepfather. "They said that … you were obsessed with her," Quinones stated. "That you were very controlling and very strict; that you had her sign contracts, and followed her around. You interviewed parents of any new friends of hers." Michael agreed with most of these points, saying he "felt bad about" his behavior in hindsight, because "she ran away as a result of it," but that it seemed warranted to him at the time. And he denied the examples of alleged verbal abuse Quinones brought up, saying he would never use "demeaning" language against Alissa because he wanted her to have high self-esteem. He also insisted that he "didn't do a damned thing to [his] daughter."
But in old footage and recordings Sarah has shared to TikTok shows Michael calling Alissa a moron when she calls him a "pervert," and telling her school (erroneously) that she had a "mild form of retardation."
Sarah has been working to prove her father murdered Alissa.
Despite a five-year age gap, Sarah told the Times that she and her sister developed a tighter relationship as they got older. "Of course we fought like normal sisters over toys, over hair, over clothes," Sarah said. By the time she was 12, she added, "I didn't really feel the need to tattle as much. I was finally accepted into the cool kids' club."
For years, she has worked to call attention to Alissa's case, sharing conversations she's had with her father, interviews with law enforcement, and a raft of other details from the case across various platforms online. In April, however, Sarah created a TikTok, which is when her campaign really gained attention: at time of writing, she had 1 million followers. "That dark humor of TikTok really just lent itself to me," she told the Times. "I feel like there was not another platform where I could be as expressive."
Sarah wanted to reach a young audience that would share widely, and told Elle she tried to present Alissa's case as objectively as she could, including "as little of my own speculation as possible and just present[ing] the facts." And she appears to have had access to some facts police didn't, as Michael never agreed to speak with them. But after he got out of prison in 2017, Sarah recorded one of their conversations, asking him what happened to her sister.
"Be there at my deathbed, Sarah, and I'll give you all the honest answers you want to hear," he tells her. When she asks why he wouldn't give her those answers now, he replies: "Because you've got 'em now."
Per the Times, it's not immediately clear what role Sarah's work played in revisiting the case, nor did police say why they were able to charge Michael after all these years. But it's a victory for Sarah nonetheless. On Twitter, she wrote that she was "shaking and crying" after the indictment was announced, and she has no plans to abandon her cause now. As she told the Times: "All I can hope for is a fair trial for Alissa and my father. That's all I ever wanted, is for them both to have their day in court." She says she will attend every hearing.