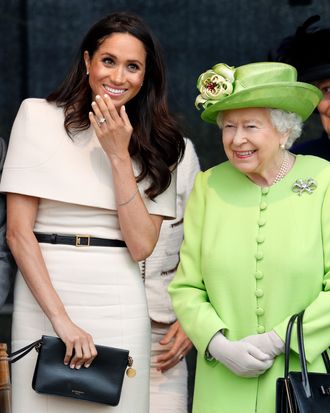 Today is Meghan Markle's birthday, which she is celebrating privately with Prince Harry and baby Archie in L.A. She's also being publicly celebrated by members of the royal family, including the queen, Prince William, and Kate Middleton. The whole affair might have felt a bit tense — given it's the first birthday Meghan has celebrated since she and Harry stepped down as senior members of the royal family in January — but everyone seems to be acting perfectly nice, or at least very British and polite.
While the royal family did wish Archie a happy birthday in May, things were pretty frosty the last time the adults got together, which was at the Commonwealth Day Service in March, when Kate appeared to completely ignore Meghan (all while wearing a ridiculous hat.)
But could things be thawing, or do birthdays call for a cease-fire? It's a little unclear: The queen's official social-media accounts shared a beautiful photo of her first jaunt with Meghan back in 2018, when the two of them went solo to a royal engagement in Cheshire. Kate and William's social channels did the same, with an identical caption, sharing a photo of Meghan greeting a little girl at an event. Charles and Camilla also shared their birthday wishes.
The posts also come on the heels of several juicy excerpts from an upcoming book by royal reporters Carolyn Durand and Omid Scobie. Finding Freedom, which is out next week, chronicles the escalating tension between Harry, Meghan, and the rest of the royal family leading up to the couple's royal exit.
One of these excerpts notes that William gave Harry "warnings" about Meghan, saying that he didn't want his brother to be "blindsided by lust." It also revealed more about Kate and Meghan's relationship, which apparently "struggled to move past distant politeness." "Though it was not necessarily her responsibility, Kate did little to bridge the divide," the authors write of their relationship. (A spokesperson for Meghan and Harry said the couple did not in any way contribute to the book.)
So what might these little birthday wishes mean then? Probably nothing, but some sites are positing that the queen's pic of her and Megs out in Cheshire is a "subtle message of support." I'm positing that whoever handles the royal social-media accounts had these things scheduled well in advance.