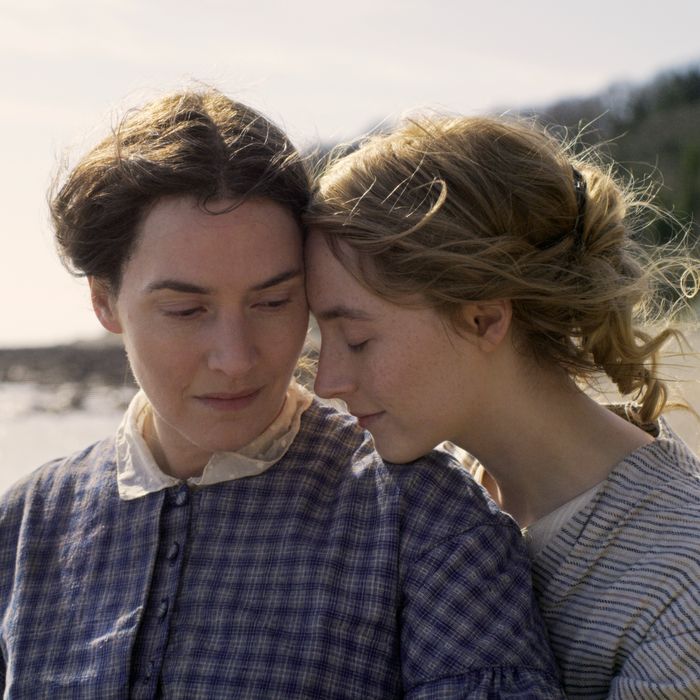 Did you enjoy the hot lesbians with 18th-century headgear taking sensual beach walks on cold days in Portrait of a Lady on Fire? How about Kate Winslet wearing grannycore on her way to seduce an ingénue in The Reader? Or all the references to archaeology in Call Me by Your Name? Titanic's epic romance between two people of different social classes? The hairstyles in Little Women? Yes? Kind of, but what's your point? It's just this: A misty lesbian-romance period piece with a paleontology B plot will be released soon, and it might just be for you.
On Tuesday, the first trailer for God's Own Country director Francis Lee's highly anticipated new film, Ammonite, dropped. In it, Winslet plays British paleontologist Mary Anning, who is sad and pale and living in the 1840s as a lady fossil hunter at a time when that can't be easy. Variety reports that Mary's "days of making famous geological discoveries" are "behind her," and now she must search for "common fossils to sell to tourists to support herself and her sickly mother." When a wealthy husband visits to ask her to take care of his wife, Charlotte (Saoirse Ronan), who suffers from "melancholia," she has no choice but to take this guy's money.
This isn't as clear in the trailer, but according to Variety, the two "initially clash due to their different social classes and personalities." Charlotte always smiles; Mary never does. Nonetheless, the two fall in love and kneel before each other and whatnot. It's timeless, it's beautiful, it's flawlessly acted. It's gonna make you horny for dreary weather.