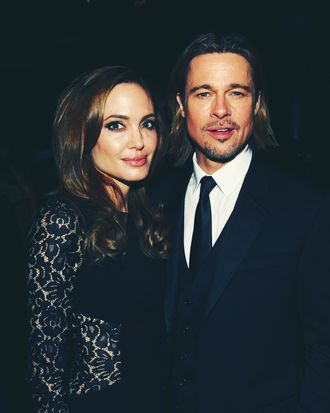 Photo: Kevin Winter/2012 Getty Images
Even during a global pandemic, a few things remain constant: celebrity makeup brand announcements, the feud between Kanye West and Taylor Swift, and Brad Pitt and Angelina Jolie's divorce proceedings, which have been dragging on for four years over custody and property disagreements.
Angelina Jolie and Brad Pitt got together back in 2004 on the set of Mr. & Mrs. Smith and were married in 2014. In 2016, Jolie filed for divorce, citing "irreconcilable differences," and has said in multiple interviews that the separation was for the family's "well-being."
Amid news of the divorce, reports surfaced about an alleged incident between Pitt and his then-15-year-old son, Maddox, that took place on the family's private plane. A source close to Pitt told People at the time that Pitt "was drunk, and there was an argument between him and Angelina … There was a parent-child argument which was not handled in the right way and escalated more than it should have." (It's unclear if there was physical violence, although Pitt's camp has maintained there was not.) Following the incident, the Los Angeles County Department of Children and Family Services launched an investigation into Pitt, which was later referred to the FBI because the incident took place on a plane. Both were eventually dropped, but Jolie filed for divorce the day after the plane incident.
The couple, who share six children — three of whom are adopted — have been embroiled in divorce proceedings since then. They legally "bifurcated" their marriage in 2019, which allows them to have a "single" status throughout divorce proceedings (and for Angelina to drop the "Pitt" from her name). Things were apparently "cordial" until recently.
According to the Associated Press, Jolie recently requested that the private judge handling their divorce proceedings — John W. Ouderkirk — be removed and replaced because he failed to immediately disclose his past business relationships with one of Pitt's attorneys. Jolie's filing reportedly notes: "It doesn't matter if Judge Ouderkirk is actually biased. Under California law disqualification is required so long as a person aware of the facts 'might reasonably entertain a doubt' about Judge Ouderkirk's ability to remain impartial."
The pandemic has also delayed the couple's divorce proceedings. "Brad is seeing the kids but everything involved in their process of resolving legal matters between Angelina and Brad, including the courts, is slowed down because of COVID," a source told Us Weekly.