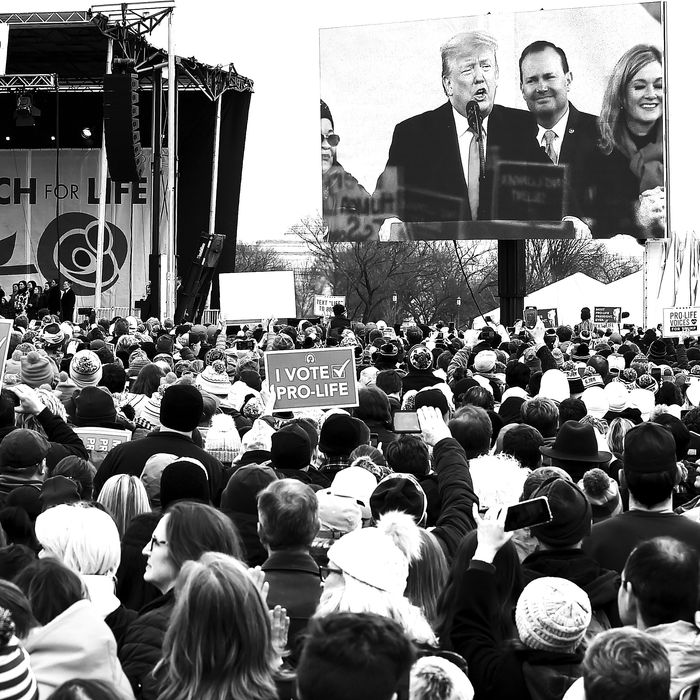 Photo: OLIVIER DOULIERY/AFP via Getty Images
The Paycheck Protection Program (PPP), which passed in March as part of the CARES Act, was designed to incentivize employers with fewer than 500 employees to pay their workers during lockdown with government-backed loans, but it hit some major snags when put into practice. Bailout money poured into huge businesses like Shake Shack and the Los Angeles Lakers (not to mention the pockets of President Trump's family and associates), while many genuinely small businesses, particularly those with Black owners, were denied loans, and there was never enough money to go around in the first place. We now know that millions of dollars in funds also went to anti-abortion crisis pregnancy centers, religiously affiliated and faith-based nonprofits (a group eligible to receive PPP loans) that coerce women into carrying their pregnancies to term.
The Guardian reported on Monday that crisis pregnancy centers in the United States received at least $4 million — possibly more than $10 million — in PPP bailout money. The Guardian landed on this fairly wide range by examining PPP loan data from the U.S. Small Business Administration (SBA), which itself published ranges rather than precise loan amounts. For instance, Heartbeat International, which says it operates 2,700 crisis pregnancy centers worldwide, was approved for a PPP loan of between $350,000 and $1 million based on the understanding that this would save 42 jobs.
Up to $350,000 worth of funding was also awarded to a crisis pregnancy center in San Jose, California, operated by the Obria Group, which has already been given millions of dollars in federal family-planning grants. The clinic said the money was needed to save 31 jobs. Obria's founder and CEO, Kathleen Eaton Bravo, has espoused white-supremacist conspiracy theories about abortion, saying in a 2015 interview with The Catholic World Report that when European nations "accepted contraception and abortion, they stopped replacing their population. Christianity began to die out. And, with Europeans having no children, immigrant Muslims came in to replace them."
In the medical community, crisis pregnancy centers are widely understood as legal quackery designed to prevent women from considering and undergoing abortions. The centers are often run out of storefronts that look like reproductive-health clinics, are generally hostile toward contraceptive methods that aren't abstinence, and have been known to offer unproven treatments like the abortion "reversal" pill. Gynecologist Dr. Amy G. Bryant and co-authors recently wrote in the AMA Journal of Ethics, "Although crisis pregnancy centers enjoy first amendment rights protections … their propagation of misinformation should be regarded as an ethical violation that undermines women's health." Andrea Swartzendruber, an assistant professor of epidemiology and biostatistics at the University of Georgia College of Public Health who researches crisis pregnancy centers, told the Guardian they have "secondary objectives too, which include Christian evangelism and promoting sexual abstinence before marriage."
It will surprise no one that there has been no uproar from the federal government over the distribution of PPP funds to crisis pregnancy centers, as there was in May when the SBA asked Planned Parenthood affiliates to return the millions of dollars they received from the same relief bill, claiming they did not actually qualify as small businesses.