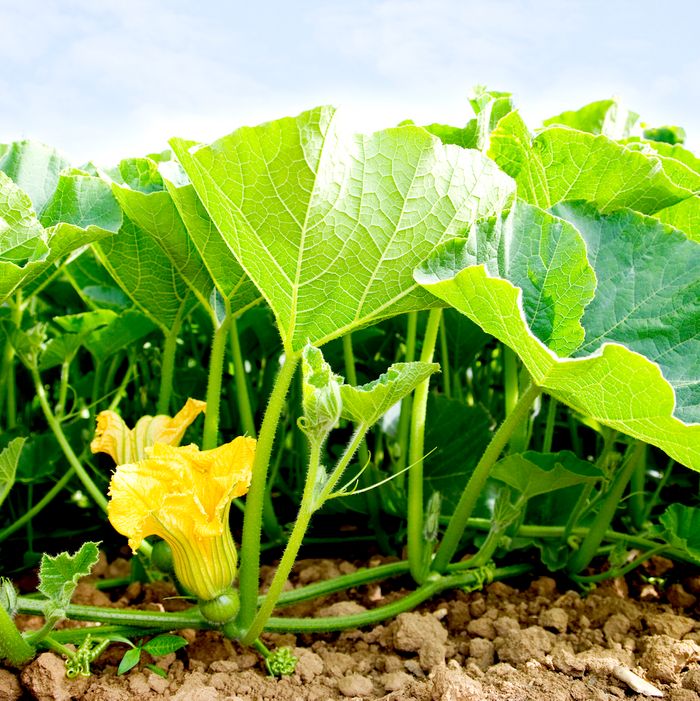 A squash plant bearing an eerie resemblance to the one that exploded from a package of mystery seeds mailed to Arkansas.
Photo: Robert Decelis/Getty Images
In recent weeks, reports surfaced of mysterious, unsolicited seed packets creating chaos in the postal system as they crept into random mailboxes across the country. It seemed almost inevitable that someone, whether out of boredom or curiosity or a simple mix-up, would eventually plant the spooky seeds, despite stringent warnings from our agricultural authorities not to free them from their plastic baggies. Unfortunately, those warnings came too late for an Arkansas man who received his seedy surprise months ago. Now, he has an enormous alien plant on his property.
Booneville resident Doyle Crenshaw told local CBS affiliate KFSM that, roughly two months ago, he received a strange package out of the blue. Its shipping label, Crenshaw explained, listed China as the country of origin. "It said 'studded earrings' on the outside, and we thought that was a little odd," Crenshaw recalled. Other seed recipients have described similar packaging advertising jewelry they never ordered.
Inside the envelope, Crenshaw found a small bag of flat, almond-shaped seeds like the kind you might scoop out of a pumpkin. "We brought them down here [to his garden] and planted the seeds just to see what would happen," he said. "Every two weeks I'd come by and put Miracle Grow on it, and they just started growing like crazy."
The plant features big orange blossoms and white, oblong fruits suggestive of squash, although the Arkansas Department of Agriculture will remove and inspect the beast this coming week. "Our concern is from an invasive pest aspect, these seeds could introduce an invasive weed, or an invasive insect pest or a plant disease," Scott Bray, of the Arkansas Department of Agriculture, told KSFM. For that reason, recipients are asked please, not to sow these suckers, and to report them to their state's plant regulatory official or APHIS state plant health director instead.
Realistically, USDA authorities suspect the seeds are part of a "brushing scam," meaning Crenshaw's name could soon appear on a glowing Amazon review for double-wide, XL squash vines. Here's hoping that's the worst of it.