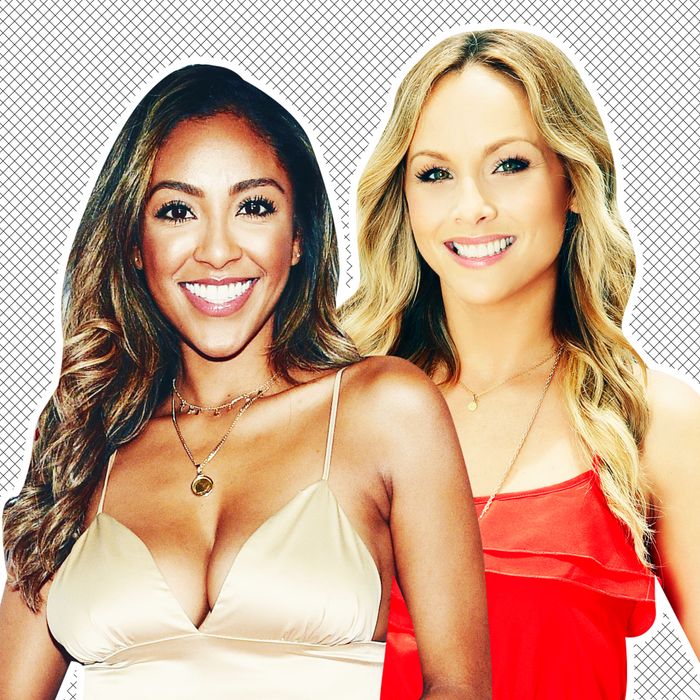 Tayshia Adams and Clare Crawley.
Photo: Getty Images
There are many important political and existential questions humanity is being forced to reckon with right now, but the question that this blog, specifically, will be addressing is as follows: What's going on with the new season of The Bachelorette?
Back in March, at the finale of Pilot Pete's messy-as-hell season of the The Bachelor, host Chris Harrison announced that Clare Crawley would be the next Bachelorette. Crawley, a 39-year-old hairdresser from Sacramento, is a Bachelor Nation veteran who made her first appearance on Juan Pablo Galavis's season in 2014. Filming on her season was almost immediately suspended due to the outbreak of the Covid-19 pandemic, but in June Variety reported that production would resume at an isolated resort in Southern California, where Crawley and the rest of the cast and crew would be quarantined for the rest of the season.
So everything was back on track — for a while. According to a new report from People, Crawley is being replaced as this season's Bachelorette by Tayshia Adams — a contestant from Colton Underwood's season — because, during the show's suspension, Crawley fell in love off-camera (!) with one of the contestants vying for her heart.
What! What does this mean for the new season? Who did Crawley fall in love with? Is love real if your courtship isn't witnessed by millions of Americans each week? Is it really possible that this season could be even messier than Pilot Pete's season?
Below, what we know.
Crawley reportedly quit because she didn't want to lead on other contestants.
As one source told People, while filming was suspended, one of the season's contestants found a way to get in touch with Crawley, and the two started talking. Things apparently escalated quickly because, per the source: "By the time filming officially began, they were basically already in love. No one else stood a chance. It just became so obvious from her subsequent few dates that her heart wasn't in it, and she just wasn't feeling it. Then she said she wanted out."
(It is unclear yet what the repercussions of Crawley's backing out of her contractual obligations will be. But it can't be simple — especially given she was slated to be the season's star.)
The man in question is rumored to be Dale Moss.
Moss is a 31-year-old model, podcaster, and former NFL star from South Dakota. According to Reality Steve — one of the country's foremost Bachelor scholars — Moss was the recipient of Crawley's first-impression rose, so clearly they clicked early on.
Cosmopolitan found this video from January 2020 of Moss taking you through a day in the life of a New York City model. He says he's really into juicing, and does a very impressive workout in an Under Armour hoodie tank. He seems nice!
Crawley and Moss may already be engaged??
Or so says Life & Style magazine. Their source is "talk among production," so who knows whether or not this is true. If it is, though, Reality Steve notes that this may indicate that Moss and Crawley were already talking before any filming started.
Crawley will reportedly be replaced by Tayshia Adams.
Although ABC has yet to officially confirm that Adams, 29, is the new Bachelorette, Entertainment Tonight reported that over the weekend, Crawley favorited a tweet about Adams allegedly taking on the role.
Crawley's favorite fueled speculation that Adams would lead this season, not only because of the content of the tweet ("I'm sure many would be thrilled with Tayshia, too!!" the since-deleted post said) but also because it indicated Crawley was able to access Twitter at all. Usually, while filming, leads like Crawley have their phones taken away from them so they can't go on social media and look up the contestants. The fact that Crawley was on Twitter suggested that perhaps she had left the show and gotten her phone back.
According to Deadline, Adams has joined the season's production after undergoing a quarantine period.
Other Bachelor alums seem excited about Adams' casting. In a statement to Entertainment Tonight, former Bachelorette Rachel Lindsay said she was eager to see another Black Bachelorette.
""When I stepped in as Bachelorette, I wanted to pave a way for more diversity, for more people who look like me and who didn't look like the typical lead," Lindsay, the first Black Bachelorette in the franchise's history, told ET on Monday. "So to see another Bachelorette of color, I'm thrilled."
This also means there's been a recasting of contestants.
There had already been a contestant shakeup earlier this season. People reports that, in July, the show's Facebook page shared the bios of all 42 potential suitors, 25 of whom were new, and only 17 of whom had originally been picked to join Crawley's season back in March.
In addition, Deadline says there are rumors that some of the men Crawley eliminated will be allowed to return to compete for Adams' affection.
Still, as a source told People, recasting is uniquely complicated right now and "because of quarantine, it's not as simple as just starting over."
"Everyone is being tested and contained within this bubble so anyone coming from the 'outside' is potentially a problem," the source said. "So that still needs to be fully resolved at this point in terms of Tayshia's suitors."
When will we get to watch this drama unfold?
That is unclear. Although the show was originally expected to air in late September or early October, it would not be surprising if this casting upheaval pushed that timeline back a bit. Deadline reports that Crawley's exit will almost certainly be incorporated into this season's story line. So, whenever the season does air, we'll get to watch all of this — or at least, whatever was caught on camera — go down.
A season messier than Peter's???
I know!!!!!!!! Who could have imagined?