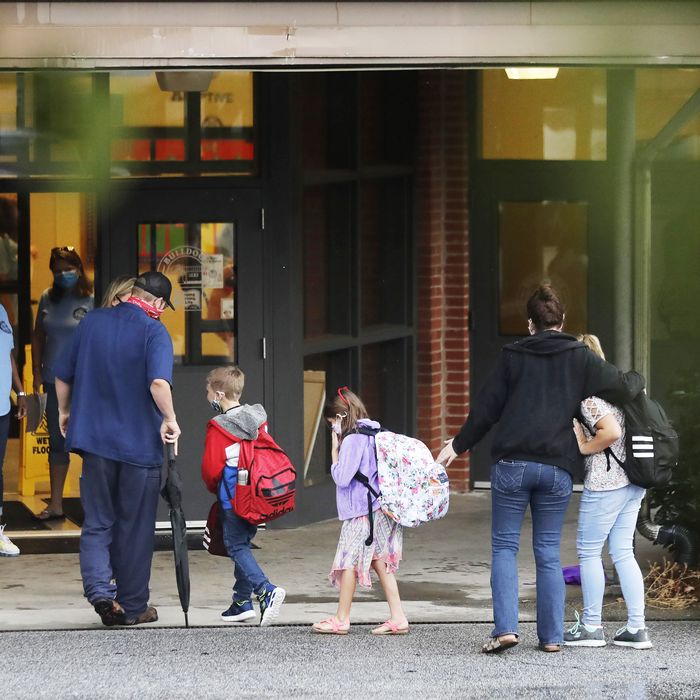 Photo: Brynn Anderson/AP/Shutterstock
Just as the coronavirus reaches what health officials are calling a "new phase" of being "extraordinarily widespread" throughout the United States, with 2 million new cases reported in July alone, it's time for back-to-school season.
With no federal guidance on what to do, aside from a few mad tweets from Donald Trump insisting that "SCHOOLS MUST REOPEN," states, counties, and cities are implementing a patchwork of different plans for the start of the school year, some online and some in person.
For those that have reopened with students physically in school buildings, the situation looks surreal. One particularly chilling image went viral, for showing students in a packed hallway in Paulding County, Georgia, outside metro Atlanta, only a few of them in masks:
Georgia schools have only been given "guidelines" by their state public-health and education departments, not mandates. 195,435 cases of the coronavirus have been reported statewide, with over 19,000 hospitalizations. On Monday, Paulding County reopened, with some students attending classes physically in schools for three days a week and doing online "digital learning" for two days. Students can also decide to take virtual lessons only; the county reports that over 22,000 students signed up to return to school in person, with 9,000 students opting to go online only.
But some parents are saying that they were put on a waiting list for online-only study — and while they wait, their kids are required to be in school. "They're telling me, as we're on the waiting list, we're highly encouraged to come to school," one parent told the local news. "They told me that if my daughter wasn't there today, she would be withdrawn." The parent said she was wary of sending her child after hearing reports that teachers and students were not all observing social-distancing guidelines and failing to wear masks.
Indeed, mask-wearing is not a requirement by the county's school system. The rules state that "schools will employ social distancing as it is feasible and practical," and that while they "will encourage students, teachers, and bus drivers to wear masks … wearing a face mask is a personal choice." Meanwhile, one high school in the county, North Paulding, reported that multiple members of its football team tested positive for the coronavirus just one day before the school was set to reopen.
Now, at least two North Paulding students have told BuzzFeed News that they were suspended for posting photos and videos to Twitter of the crowded hallways. One, 15-year-old Hannah Watters, said that she received a letter after she posted a picture of the hallways on her second day in school:
Watters said she posted the photo to protest the lack of social-distancing protocols being observed. She also posted a tally of students in her classes wearing masks, which she said was less than half the classroom each period. The notice of her suspension said "that I used my phone in the hallway without permission, used my phone for social media, and posting pictures of minors without consent," per Watters. The high school did not comment on the suspension, but BuzzFeed reports that on Wednesday, "an intercom announcement at the school from principal Gabe Carmona said any student found criticizing the school on social media could face discipline."
Elsewhere, in Gwinnett County, where teachers and staff met in person last week to begin readying schools, 260 district employees were told not to return because they had tested positive for COVID-19 or had been in contact with someone who had it. Gwinnett County has one of the highest rates of coronavirus cases in the state, with 17,781 positive cases, 1,996 hospitalizations, and 240 deaths. Hundreds of teachers reportedly reached out anonymously to the Atlanta Journal-Constitution to raise the alarm about conditions. "In-person training and meetings are taking place without areas being wiped down or disinfected in between, and masks aren't being worn at all times," according to the AJC. Other teachers reported that their school "still hadn't received any hand sanitizer."
One teacher quit her job rather than be forced to go back to her school building. Ashley Newman told local news that she has a 4-year-old daughter, and she was not comfortable leaving her at a nursery school with 15 other students. "Back in April, teachers were considered heroes," Newman said. "But that messaging has changed. Now, if you're not willing to risk your life by going into a building unnecessarily, then you're lazy."
A photo of seniors standing in a tightly packed group at Etowah High School in Cherokee County also made the rounds. It's a shocking dissonance in a country where the pandemic has claimed over 150,000 lives.
In addition to Georgia, students in Louisiana, Mississippi, and Indiana are also heading back to school this week. The Paulding County school superintendent released a statement after touring a few schools on the first day of classes, writing that things seemed "remarkably normal." "We can't wait for Day Two!" he said.
This post has been updated with more information.