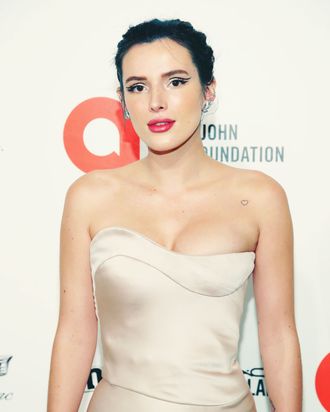 Bella Thorne
Photo: Getty Images
This week, 22-year-old actress Bella Thorne went from positioning herself as celebrity darling of OnlyFans to having to issue an apology to sex workers. Many of the site's performers say the former Nickelodeon star's contentious entrée to the subscription-based platform — where she earned a reported $2 million in under a week — caused the site to limit the amount of money its performers can make. OnlyFans, with its 30 million users, has long been a platform where performers, especially those who produce explicit content, can earn a living. It has been especially crucial for many sex workers seeking ways to support themselves while social-distancing guidelines are in place and industries across the board have moved more of their operations online.
Here's what we know so far about Bella Thorne's OnlyFans controversy.
So, how did this all begin?
On August 19, Bella Thorne joined OnlyFans. She later said she'd earned $1 million the day she joined (the most earned by any OnlyFans creator on their first day, the platform confirmed) and had accrued $2 million in the first six days, charging $20 per viewer to access her page.
Thorne told the Los Angeles Times that she would donate some of the money and invest the rest in her production company. She also claimed to have joined the site as research for an upcoming film project with The Florida Project director Sean Baker. Thorne described the film as "a feature we are researching as I'm living it currently," that explores the "ins and outs" of maintaining an income through OnlyFans.
How did Thorne's stunt impact performers on OnlyFans?
On Thursday, August 27, OnlyFan creators were informed that the platform was implementing limits on what they could charge (a maximum of $50 per user for pay-per-view content) and how much they could be tipped ($100 at most). The platform also announced that content creators would no longer receive their payouts on a weekly basis, but 30 days after transactions took place instead. The new policies significantly hampered its creators' ability to be compensated adequately and in a timely fashion.
At the same time people began circulating posts on social media claiming that when Thorne joined OnlyFans she began selling an exclusive pay-per-view photo for $200, which was allegedly advertised as a nude and turned out not to be one, resulting in many visitors demanding a refund. Several OnlyFans performers have subsequently blamed Thorne for the site's policy changes. Thorne told the Los Angeles Times that she never advertised nudity on her page. Even before the controversy over the nude arose, sex workers on OnlyFans had criticized Thorne for capitalizing on the site without drawing attention to adult content creators, some of whom have accused the platform of marginalizing them.
OnlyFans told Insider that the site's policy changes had nothing to do with Thorne's account, saying, "Transaction limits are set to help prevent overspending and to allow our users to continue to use the site safely … We can confirm that any changes to transaction limits are not based on any one user."
But some performers are skeptical. Jenna Foxx, who's been making money through OnlyFans since 2017, told the Times that she thought the company's response to the controversy was an excuse to "cover their own butt." Foxx pointed out that while Thorne is "already rich" and has many sources of income, "OnlyFans is a full-time job for some of us." Foxx posited that Thorne "didn't hurt anyone but the sex community."
Then Sean Baker denied he's working on a film with Thorne.
On Friday, Sean Baker released a statement denying Thorne's claim that the two are working on a film project together, clarifying that he and her team chatted about a concept but nothing more. "I would like to make it clear that the news of me making a film … about OnlyFans and using Bella Thorne as research is false," the director said. "I am NOT attached to this project," Baker went on. He said he'd had a conversation with Thorne earlier this month in which they'd discussed a "possible collaboration" on the subject of OnlyFans. He said during that conversation he specifically advised her team "to consult with sex workers and address the way she went about this as to NOT hurt the sex work industry."
Finally, Thorne apologized.
By Saturday, Thorne adopted a very different attitude toward her OnlyFans windfall, issuing an apology in which she weirdly positioned herself as a champion of sex workers. She wrote that her intention in joining OnlyFans was to "remove the stigma behind sex, sex work, and the negativity that surrounds the word SEX itself by bringing a mainstream face to it … to create more revenue for content creators on the site," which is literally the opposite of what happened. "In this process, I hurt you," she wrote, and for that, I'm truly sorry."