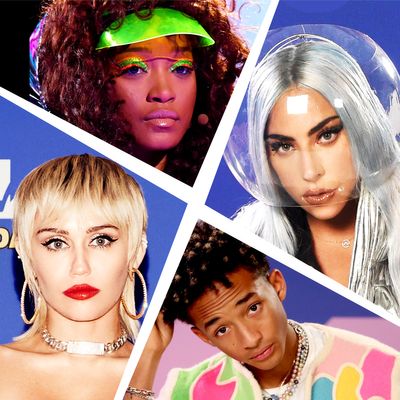 The MTV VMAs were a little … different this year. There was a socially- distanced carpet in an unnerving shade of white, virtual performances sans audiences, and so, so many fireworks. Nevertheless, some notable beauty looks still managed to show up in New York and online, during a pandemic no less. Here are 13 of the best hairstyles and makeup moments that were able to attend the 2020 VMAs in some form or another.
Best Tendrils
Host Keke Palmer proves making your face-framing pieces extra blunt and chunky can really update an early-aughts prom updo.
Best Reminder to Grow Your Hair Out
If the lockdowns weren't enough to convince you to grow out your hair, please direct your eyes to Jaden Smith's head of curls.
Best Reminder That It's Okay to Go Gray
And allow Lady Gaga's silver-violet-blue hair to serve as your mood board as you slowly step away from the root touch-up products.
Best Mullet
Miley Cyrus seems to have finally perfected her shaggy mullet, which is now comprised of wispy bangs in the front and a nice little party in the back.
Most Likely to End Up on Pinterest
Laid edges, chain ponytail holder, pink eye shadow, winged liner, nude lip, metallic nails … It's probably best to just bookmark Doja Cat's beauty look for now and revisit it when you have somewhere to go.
Best Bottle Blonde
A lot of famous people celebrated phase two of reopening by hitting the bleach, but few pair dark brows and extra-bright hair as effortlessly as Maluma.
Most Aspirational Eyeshadow
During one of her outfit changes, Palmer emerged with neon Euphoria eye jewelry that made me miss music festivals for a hot second.
Best Pigtails
Looks like Ariana Grande's signature ponytail has a long-lost twin. It's never too late to jump on the high pigtail train!
Most Creative Use of Makeup
Ever since the release of his album After Hours, the Weeknd has been eschewing expected things like highlighter and instead using makeup that looks like blood to completely reimagine the meaning of a "beat face."
Best Bowl Cuts
For the second time this year, BTS is taking home the trophy for excellent execution of the throwback haircut, this time with an energizing, electric blue bowl cut added to the mix.
Biggest Side Bang
Bebe Rexha went big with a side bang so impressive, it could probably go solo as a bob if it really wanted to.
Best Under Eyeliner
Cat eyes always get a lot of love, but Bella Hadid makes a good case for drawing under your eyes, too. Just make sure you do it with a liner that doesn't make you cry so you can pull off a convincing smize.
Longest Ponytail
We've moved past butt-skimming ponytails. Only calf-skimming ponytails like Palmer's, going forward.