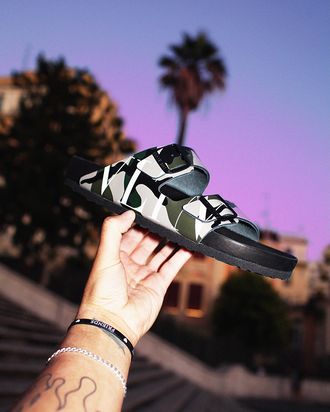 Photo: Courtesy of Birkenstock/Valentino
'Tis the season for last-minute upstate getaways while the heat of summer swelters on. But just because you're escaping the city to get in touch with Mother Earth doesn't mean what you wear has to be exclusively functional. Birkenstock reminds us that practicality doesn't necessarily mean sacrificing style in the brand's second collection with Valentino.
While their first collaboration consisted of two monochromatic styles, the latest features three oversize camouflage patterns in military green, vibrant yellow, and gray. Valentino's "VLTN" logo is emblazoned on the sides to remind all the creatures of the woods that you are indeed wearing an Italian luxury brand. (Of course, these would look just as good out and about in the city.)
The sandals are available in limited quantities on 1774.com and Valentino.com and at Valentino stores everywhere on September 3.