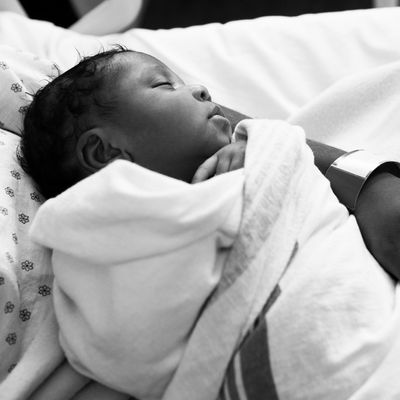 Photo: KidStock/Getty Images
In the United States, race is a disturbing factor in infant-mortality rates: Research shows that Black newborns are three times as likely to die as their white counterparts. But according to a sweeping study published earlier this week in the journal Proceedings of the National Academy of Sciences, the race of the mother's doctor could also have a bearing on her child's survival.
Motivated by recent research which suggests that common race between a patient and doctor can be beneficial to patients, a team of researchers from George Mason University, the University of Minnesota, and Harvard University turned their focus on childbirth — a clinical setting where racial disparities are severe. Analyzing 1.8 million hospital births that occurred in Florida between 1992 and 2015, they found that when the attending doctor was white, Black newborns died at approximately three times the rate of white newborns. These effects became even more stark when the case was more complicated. However, when a Black physician attended a Black newborn, the in-hospital infant-mortality rate was approximately halved. (Meanwhile, their findings showed that the doctor's race had no impact on the mortality rate for white infants.)
"Our findings demonstrate that when newborns and the physicians treating them are of the same race, that newborn survival rate is significantly improved," study co-author Rachel Hardeman, an associate professor at the University of Minnesota's School of Public Health, said in a news release.
These findings join the growing body of research on the impacts of structural racism within the health-care system — and, in particular, within clinical settings dedicated to pregnancy and childbirth. Black newborns face a higher risk of death — but so, too, do Black mothers, who die from childbirth at three times the rate of white mothers. While Black women are more likely to suffer from health conditions like obesity and high blood pressure, most experts blame the myriad manifestations of institutional racism. Black women, for example, often lack access to quality prenatal care. And as Dr. Ana Langer, director of the Women and Health Initiative at the Harvard T.H. Chan School of Public Health in Boston, told the American Heart Association, Black women "are not monitored as carefully as white women are. When they do present with symptoms, they are often dismissed."
To help close the Black-white infant-mortality gap, which could prevent 1,400 Black newborns from dying in hospitals each year, researchers recommend that all doctors receive better training on how to treat people of color. To address the racial disparities in health care, hospitals and other care facilities can start by "[investing] in efforts to reduce such biases and [exploring] their connection to institutional racism," the researchers write, which will require "raising awareness among physicians, nurses, and hospital administrators about the prevalence of racial and ethnic disparities."
Aaron Sojourner, an associate professor at the University of Minnesota and a co-author of the recent study, said their findings "warrant greater investigation by researchers and medical practitioners into drivers of differences between higher- and lower-performing physicians, and why Black physicians systemically outperform their colleagues when caring for Black newborns."