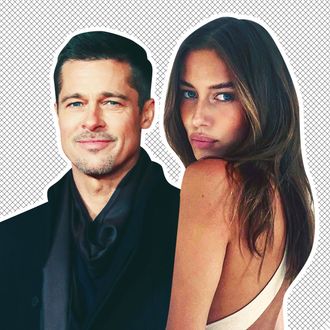 Brad Pitt and Nicole Poturalski.
Photo: Getty Images, @nico.potur/Instagram
Amid Brad Pitt's divorce from Angelina Jolie, which has been ongoing literally since the last presidential election, the world has changed dramatically and Brad has found a new lady to date who is neither an MIT professor, or Alia Shawkat, or his ex-wife. Actually, Brad is dating a model now.
Us Weekly confirmed on Wednesday that Pitt, 56, is dating Nicole Poturalski, a 27-year-old German model. The two were spotted on Wednesday arriving at Le Bourget airport in France, just outside Paris. Brad wore his trademark newsboy hat. The two later headed to Brad's house in the South of France, which, per Us Weekly, is also a "chateau." A source told "Page Six" that the two "are seeing each other" and "enjoying a vacation together." OK! magazine quoted an eyewitness, who said as the couple boarded a private jet just outside Paris to travel to Brad's chateau, they "were kissing and Brad was being super attentive to her."
It's possible the two have been dating for a while, at least nine months. In November 2019 the two were seen together in a VIP box at the Hollywood Bowl in Los Angeles. Onlookers described the two as "deep in conversation."
And who is Nicole Poturalski? According to the Daily Mail, Brad has "endless reasons to be captivated" by this beautiful woman. First of all, she knows five languages. Nobody seems to know which ones. She also reportedly founded an organization dedicated to helping sharks. She likes to color-coordinate. And, she has a young son named Emil.
Good for them! Bad for people who think they're going to date Brad Pitt some day.