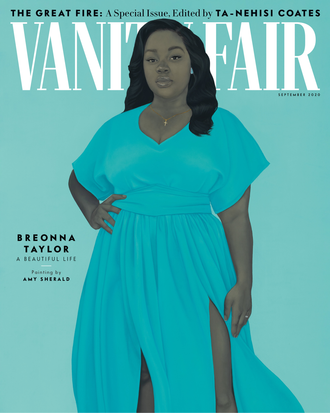 Photo: Amy Sherald/Vanity Fair
A painting of Breonna Taylor is the cover of the September issue of Vanity Fair. The cover was done by Amy Sherald, best known for painting Michelle Obama's official portrait.
Breonna Taylor was shot and killed by police in her Louisville, Kentucky, home on March 13. An EMT and aspiring nurse, the 26-year-old was shot eight times by officers while she was sleeping in what's been described as a "botched raid." Five months later, the officers that killed Taylor have still not been arrested or charged with any wrongdoing. Her family and many members of the public continue to call for justice, and Taylor's name has been chanted all over the country at mass protests against racist police brutality.
If you read anything this week, make it this interview with Taylor's mother, Tamika Palmer, as told to Ta-Nehisi Coates. Palmer offers a full and intimate picture of Taylor's life: how she'd always wanted to be a nurse; her love of the blues, chili, and older cars. "Breonna's absolute favorite was the Dodge Charger. She was on her second one — a 2019 Dodge Charger R/T. She was so proud of this car, it was her baby." She also remembers what Taylor was like as a person: "Breonna was bossy. She was so OCD. And she was one of them people who didn't talk about other people. If something was going on with you, she'd rather figure out a way to help you than talk about you."
Palmer describes her frustration that, initially, the news stories around Taylor's killing falsely portrayed Taylor and her boyfriend, Kenneth Walker, as drug dealers (the police found no drugs in the home), and how — three months after Taylor's death — people finally started paying attention. "On one particular morning my sister writes this thing. And it reads something like, My name is Breonna Taylor. On March 13, LMPD broke in my house and murdered me and no one's been arrested or charged. She sends it to me and I say, Okay, I'm going to post this on Facebook. Like an hour later, it has like 10,000 shares. It's like a light switch cuts on and all of a sudden this story is everywhere."
Since Radhika Jones took over as editor-in-chief in 2017, Vanity Fair has featured a more diverse array of cover stars, including the magazine's first cover shot by a Black photographer, featuring an image of Viola Davis by Dario Calmese, which was published just last month. (Though not everyone has been a fan: According to a New York Magazine story, while discussing Vanity Fair's recent cover stars with a VF editor, a prominent publicist asked, "What is this, Ebony Fair?")
VF is the second magazine Breonna Taylor has covered since her death: Last month, a painting of her was featured on Oprah's O magazine.