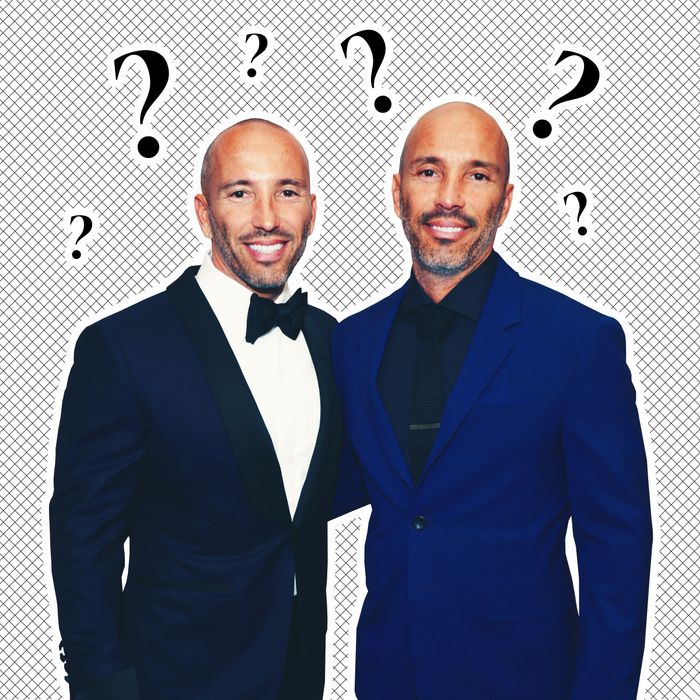 Brett and Jason Oppenheim.
Photo-Illustration: Getty Images
Selling Sunset is a Netflix reality show about the lives, loves, and heavily scripted tiffs of the employees of the Oppenheim Group, a high-end real-estate firm in West Hollywood that specializes in selling multimillion-dollar homes made entirely of windows and infinity pools.
While most of the show's plot is driven by the Oppenheim Group's high-heeled female employees, heading the operation are the Oppenheim brothers — Brett and Jason — identical twins with bald heads, gleaming white teeth, and a penchant for tight-fitting dress shirts. They are knowledgable, ambitious, tough but fair, and absolutely impossible to tell apart.
Only real fans — those who've spent so many hours watching the show that their brains are as smooth as the twins' heads — can spot their subtle differences. Take our quiz below to see how well you know Jason and Brett.
(Note: While we're 90 percent confident we've correctly identified the brothers in the following pictures, we apologize if we got any of this wrong, and we mean no disrespect to the twins, who are absolutely two distinct, unique individuals.)
Can you tell Jason and Brett Oppenheim apart?
True fans know.