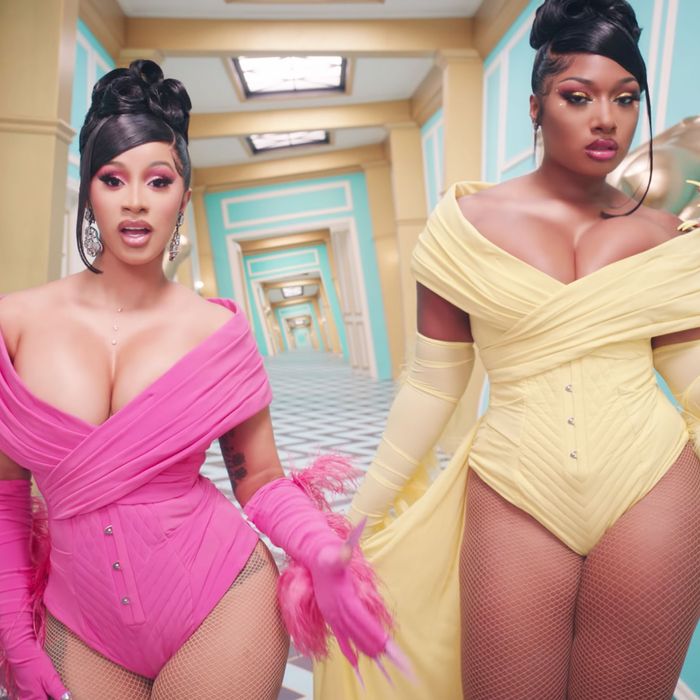 Good morning and happy Friday. As a treat for making it through another difficult week, Cardi B and Megan Thee Stallion have dropped "WAP," a new song and video that urges us to celebrate our WAPs and the WAPs of women everywhere.
The video sees Meg and Cardi in a luxurious fun house decorated with golden statues of naked breasts, with the rappers themselves outfitted in a variety of couture bustiers. They move from room to room, singing about WAPs while writhing in a nest of vipers, dancing with exotic cats, thrashing around in a shallow pool, and doing the splits — a lot. The video also has appearances by Normani, Rosalía, and for some reason, Kylie Jenner, but probably because she lived nearby and was free.
The whole thing is reminiscent of another celebrated female-empowerment anthem: Lil' Kim's 1997 "Ladies Night" video, which also features Kim and her girlfriends dancing around with wild animals. Indeed, while Meg and Cardi are not strangers to singing about their vaginas (as Cardi once said: ""I rap about my pussy because she's my best friend") the lyrical excellence of "WAP" takes this praise to a whole other level. Throughout, they're unabashed in their descriptions, comparing their WAPs to Dasani bottled water and "macaroni in a pot," and advising their partners to "bring a bucket and a mop."
In short, like all of Cardi's creations, it's a feat of cinematic excellence with a powerful message.