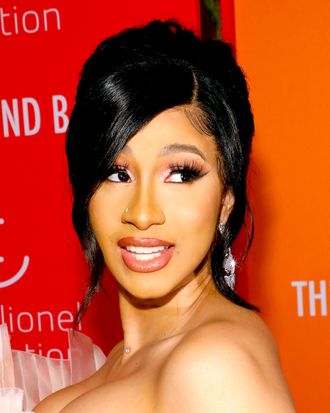 Cardi B.
Photo: Taylor Hill/WireImage
Now that her number-one candidate has dropped out of the 2020 presidential race, noted political commentator and forever Bernie Sanders stan Cardi B has a new endorsement to make: U.S. Representative Alexandria Ocasio-Cortez for president — one day, when she's old enough.
On Saturday, the rapper and co-author of the summer's horniest anthem ("WAP," which stands for "Wet Ass Pussy," a collaboration with Megan Thee Stallion) tweeted an excerpt from AOC's Instagram stories. In it, the freshman member of Congress discusses the staggering cost of health care, even for people with insurance. Explaining that she hadn't had access to health insurance for years before her election, AOC noted that she was finally able to get (still-not-very-affordable) dental treatment thanks to her job. In other words, she "got a bag and fixed [her] teeth," to quote Cardi B's "Bodak Yellow," which plays in the background. "EXCEPT YOU SHOULDN'T NEED A BAG TO FIX YOUR TEETH, GET INSULIN, GET HEALTH CARE," AOC added. Cardi B appears to agree.
"She better run for president when she turns 35," she tweeted.
Although it will be one more election cycle before she's old enough to even consider running for the nation's highest office, and although she has not mentioned anything about possible POTUS aspirations, Ocasio-Cortez didn't say no. "Women Against Patriarchy (WAP) 2020," she tweeted back at Cardi.
Which, realistically, should probably be "Women Against Patriarchy (WAP) 2024," at least. But a celebrity endorsement in the bag, even before announcing a campaign, on top of electrifying speaking abilities? Seems pretty promising to me.