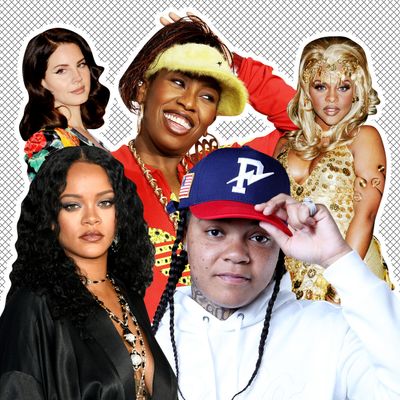 Photo-Illustration: by The Cut; Photos: Getty Images
In light of Cardi B and Megan Thee Stallion's new track "WAP" — and its accompanying music video — now seemed like a good time to peruse the rich history of female horniness as it is expressed through song. "WAP" has garnered outrage and much pearl-clutching, mostly from men and conservatives and conservative men. But with "WAP," Cardi and Meg are simply building on a long and varied tradition of women singing and rapping about their vaginas, and ultimately their desires.
The below is not comprehensive, nor is it a ranking — it's merely a sampling of the songs that occurred to me when I sat down to write this article, and what my co-workers referred me to when I asked if there were any horny songs that were of particular importance to them. What is crucial — and what I find most compelling — about each, is that like "WAP," they are so selfishly and singularly concerned with female pleasure that it's practically impossible to listen to them without getting WAP yourself. Beginning with "WAP," please enjoy a brief history of female horniness expressed through song:
"Sex With Me," Rihanna
To begin, a 2016 classic wherein Rihanna likens her vagina to a jacuzzi. It also contains the iconic couplet: "You know I got the sauce (sauce), you know I'm saucy/ And it's always wet, a bitch never ever had to use lip gloss on it." It's truly the only piece of music that makes entering the Flower Shop's disgusting basement bar worth it, because they have it on the jukebox there. (You just have to wait for the gingham-clad finance bro ahead of you to finish screaming "Bennie and the Jets.")
"My Neck, My Back (Lick It)," KHIA
This song was originally released in 2002 and has enjoyed a ten-year stretch of popularity, thanks, in part, to the fact that it works as an instructional manual for female pleasure. Khia raps not only about where she wants her partner to lick her, she gives explicit instructions on specific tongue techniques that, in my opinion, everyone should take note of. Be warned, though, after listening to it once, you will never again in your life be able to say or even think "my neck" without following it with "my back/ my pussy/ and my crack."
"You're Makin' Me High," Toni Braxton
As Fader wrote in its 2017 article "The Best 100 Songs About Sex," Braxton's ecstatic ode to foreplay is indeed "a flawless, near-spiritual manifestation of the addictive nature of fantasy — the most thrilling kind of foreplay — and that warm, tingly pressure you feel when someone makes you so hot you can barely look at them."
"How Many Licks?," Lil' Kim
As my colleague, Devine Blacksher, said to me when I put the question of horny music to her "anything by Lil' Kim makes me HORNY." And indeed, while so much of Lil' Kim's discography is about female desire, I went with "How Many Licks?" in which Kim sings, extensively and almost exclusively, about cunnilingus:
"Bubbly," Colbie Caillat
Where were you when you first learned that Colbie Caillat's diaper-commercial ditty was about a full-body orgasm?
"Need a Little Sugar in My Bowl," Bessie Smith
In my opinion, this polite song from 1931 is a lyrical predecessor to "WAP." When Cardi rapped, "I want you to park that big Mack truck right in this little garage," what was that but another way of phrasing Bessie Smith's own iconic hook: "I need a little sugar in my bowl/ I need a little hot dog between my rolls"?
"Flower," Liz Phair
The Cut's deputy style editor Izzy Grinspan tells me that she had a friendship in her teens that was "entirely based on screeching the lyrics to 'Flower' at the top of our lungs," which is perfectly reasonable given that the first line is: "Every time I see your face I get all wet between my legs," and the fourth line is "I want to fuck you like a dog," and the last line is: "I'll fuck you till your dick is blue."
"Rocket," Beyoncé
Beyoncé mostly uses nature-related language to describe having sex until orgasm. If anyone else made this song it might feel a little generic, but in her raw angel's voice it becomes coaxing and seductive in a way that is totally erotic. As one YouTube commenter said: "This song makes me want to get pregnant," which, yes.
"Burning Desire," Lana Del Rey
A tough one because I'm pretty sure all of Lana's songs have something to do with being sad and horny, but "Burning Desire" is very explicit about it. Additionally, the track includes about 30 seconds of heavy breathing layered over sad piano music:
"OOOUUU," Young M.A
Young M.A exudes a rare and powerful sexual magnetism, and "OOOUUU," in which she sings about giving and receiving oral sex from other women, is a perfect example of her charisma. "They ain't for a guy to understand," she said in an interview about the song's sex-specific lyrics: "If you don't understand you don't gotta understand."
"Cocoon," Björk
I once sat across from Björk in a sake bar in the East Village where they make you share tables. I didn't recognize her, and was irritated because the guy she was with smelled terrible. This was forgiven because before she left, she gave us the carafes of sake that kept arriving at the table, seemingly unordered, which was really nice.
Had I had known that the woman in front of me was the author of "Cocoon" I would have of course ruined the moment by saying something stupid. Because "Cocoon" isn't just a song, it's a perfect piece of erotic poetry, a lullaby about sleepy sex, wherein Bjork describes her partner's ejaculatory path as a "train of pearls."
"Toyz," Missy Elliott
This is hard one, because like Lil' Kim so many of Missy Elliot's songs are ecstatic celebrations of sex, vaginas, and general horniness. I almost went with "Sock It 2 Me" for the two-liner: "Move along pro with the backstroke/ My hormones jumpin' like a disco" but I couldn't forget about "Toyz," which is of course about sex toys and their various advantages over actual penises. The hook begins like this: "A toy, every girl must have a toy," which is truly enduring advice.