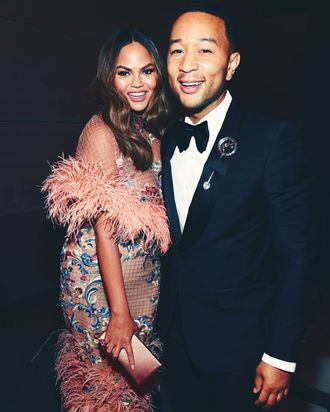 Chrissy Teigen and John Legend.
Photo: Kevin Mazur/VF19/WireImage
In terms of babies — making them, birthing them — quarantine has been a boom time for celebs. Jessica Biel and Justin Timberlake? Recently welcomed a secret baby, per reports. Rooney Mara and Joaquin Phoenix? Apparently expecting their first child, although they have not confirmed it. Elon Musk and Grimes? You remember their newborn's name, I'm sure. Chrissy Teigen and John Legend? May have just made a pregnancy announcement in the form of a music video, TMZ reports.
On Thursday, Legend released the vid for his new song, "Wild," in which Teigen — "Mayor of Twitter" and 2020's answer to Judge Judy — features prominently. "Wild" is about a car the singer bought for his wife, with the intention of driving her … you know; it is also about the trajectory of their spicy relationship, and showcases some very emotionally competent work by two beautiful horses. But the performance you're most interested in comes from Teigen's baby bump, around the 3:20 mark. To quote TMZ, a "great combo of work, pleasure and family fun," indeed!
Neither Teigen nor Legend have publicly shared the pregnancy news directly, but the alleged fetal cameo comes right at the very end, at the same time as the couple's two children — 4-year-old Luna and 2-year-old Miles — make their appearance. Announcing a new addition in the context of a full-family shot would certainly make sense, from a storytelling standpoint, but we will simply have to wait and see what happens. Still, another Teigen-Legend baby? Guaranteed cute, if true.