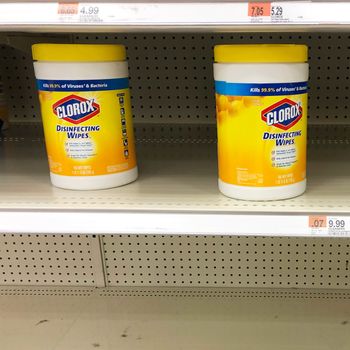 Photo: Boston Globe/Boston Globe via Getty Images
In the past few months I've thought about Clorox wipes more than I have in my entire life. Due to its shortage, the cleaning product has taken on an almost mythological cast: It is a sort of sanctified scroll from which lightly soaked hygienic papers emanate, a canister of veils. I take it as an article of faith since I haven't actually seen one in ages. For me it exists in image only, a photograph on a website with the words "out of stock" emblazoned below. If it manifests at all it's as an empty shelf, a sad grocery-store tag proclaiming a markdown that never comes.
None of this is changing anytime soon. Clorox's CEO Benno Dorer told Reuters on Tuesday that due to overwhelming demand during the pandemic, the company expects the shortage of disinfecting wipes to persist at least until next year. It is a far less optimistic projection than the one put forth in May, when Clorox said the product would be fully restocked by this summer. The California-based company is the largest manufacturer of cleaning products in the world, yet even it cannot keep apace with a sixfold increase in demand for many of its disinfecting products.
Dorer told Reuters, "Disinfecting wipes, which are the hottest commodity in the business right now, will probably take longer because it's a very complex supply chain to make them." Polyester spunlace, a material used to make the wipes, is in short supply because it's used in several other "hot commodities" as well, including masks, medical gowns, and medical wipes.
Several other Clorox products currently understocked, like liquid bleach, are expected to bounce back around the end of this year, but the wipes will continue to elude us.