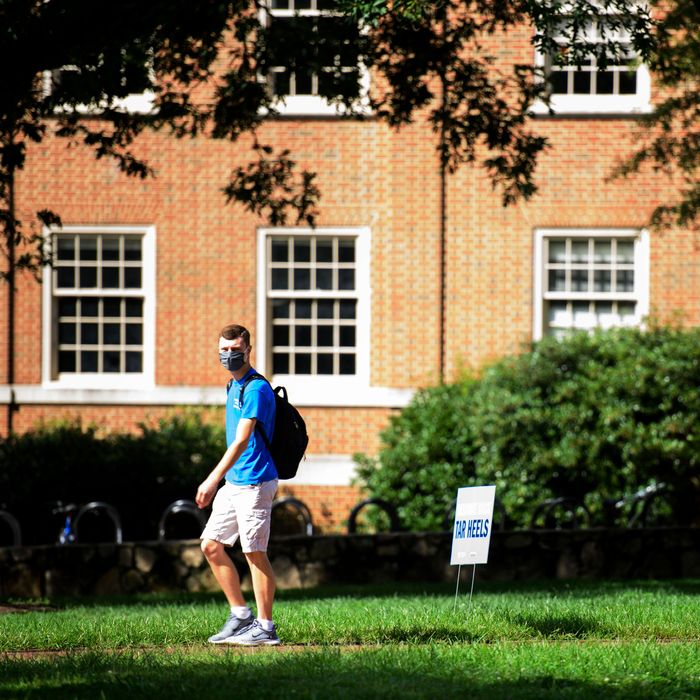 Photo: Melissa Sue Gerrits/Getty Images
As students head back to their undergraduate studies, colleges that opted to hold in-person classes, rather than transition to remote learning, are experiencing outbreaks on campus. A few have reacted by moving classes online, while many more remain open, hoping to weather the outbreaks with social-distancing measures, testing, and quarantine.
So far there have been reports of three colleges moving to virtual operations. The first was University of North Carolina at Chapel Hill, which announced on Monday — a week after school began — that it was shifting to remote education. UNC, with its 19,000 undergraduates, had been one of the largest colleges to bring students from around the country back to campus amid the coronavirus pandemic, which is still not well contained in many states. Bloomberg reports that UNC never required returning students to get tested before traveling to campus. Some social-distancing measures were taken, though: mask mandates across most of the university, dorms held at 60 percent capacity, classrooms at 30 percent capacity, and free testing on weekdays for students.
Clearly, it wasn't enough: 135 new cases were detected within the first week of campus activity. UNC said all instruction would move online beginning on Wednesday. Student newspaper the Daily Tar Heel noted in a recent editorial that there had been reports of parties throughout the weekend, and that university leadership "should have expected students, many of whom are now living on their own for the first time, to be reckless."
Then on Tuesday, two more colleges walked back plans to hold the academic year in person. Michigan State University announced it would require undergraduates to study remotely (graduate students and students who take part in athletics are exempt from the mandate). According to NPR, the directive was issued before many students returned to campus, as classes don't resume until early September. The university released a statement on Tuesday saying, "Given the current status of the virus … it is unlikely we can prevent widespread transmission of COVID-19 between students if our undergraduates return to campus."
The University of Notre Dame announced it would try remote learning, after welcoming students back to campus for the start of the fall semester just one week earlier. As with UNC, coronavirus cases rose sharply days after Notre Dame's reopening. Notre Dame's president Reverend John Jenkins said that 146 students and one staff member had tested positive since August 3. He said there had been no hospitalizations so far and that many of the cases were coming from seniors living off campus and "off-campus gatherings where neither masks were worn nor physical distancing observed."
For now, Notre Dame says it's only trying out remote learning for two weeks beginning Wednesday to control the virus, after which the university will reassess the situation. The university has requested that off-campus students refrain from visiting campus until further notice.
Many more colleges that have reopened have reported clusters of cases among students and employees, or the need to quarantine huge portions of their student bodies, but have not announced plans to move instruction fully online. About 10 percent of Northeast Mississippi Community College's student body and dozens of its employees are currently under quarantine, CNN reports. At the University of Kentucky, 160 students have tested positive since the school year began on August 3. At Iowa State University, 175 students living in campus apartments or dorms (2.2 percent of those tested) were diagnosed with the virus. Earlier this month, NPR reported that only about 30 percent of four-year colleges have "gone all or mostly online."
Now, about that tuition …