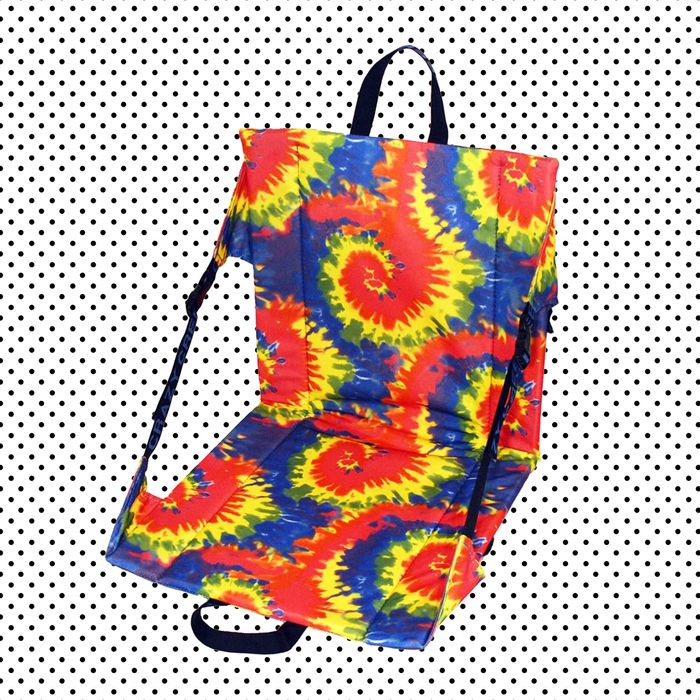 "You look so relaxed," a friend said to me this week while we were picnicking in Fort Greene Park.
In truth, I was not. (Is anyone?) But I had all the right props to help me play the part well. In that moment, I was comfortably reclined in my new REI Trail Chair, a cup of chilled red in my hand. I'd tightened the seat's straps so that I could lean back and push my butt off the ground in a sort of rocking-chair motion. As the night wore on, I became increasingly bad at balancing and fell onto my back a few times, my legs flying up in the air. But the longer I sat there, the more convinced I was that I'd made a good purchase. And that maybe I was a little bit relaxed?
Like many New Yorkers, I've been spending a lot more time in the park this summer. I bought my REI Trail Chair a few weeks ago because I have a bad back, which makes sitting on the ground for long periods uncomfortable, and I was tired of constantly washing picnic blankets. I wanted something cheap, light, and portable that I could fold up and put in the basket of a Citi Bike, but nice enough that it wasn't an eyesore. It was, after all, my new handbag.
The version I found on REI does the trick. It's no Crazy Creek — the Kleenex of foldable furniture — and it's a little more antisocial than a picnic blanket, but it's comfortable enough, plus it has a handy pouch in the back. It also fits in nicely with my new camp counselor aesthetic. I put on my Patagonia Baggies shorts, throw my Montbell fanny pack over my shoulder, pick up my trail chair, (and sometimes put a bottle of wine in its pouch), and head to the park. Outdoors, sorted.
Below, various trail chairs for all your reclining needs.
This is the chair I have. It's got a little pouch on the back for carrying your face mask, or whatever, and it can easily be folded in half if you need to throw it in your bike basket.
A classic. I like the color of this one because it blends with the grass.
If you drink too much natural wine at the park and suddenly find yourself sleepy, you can also turn this plush Crazy Creek into a quick nap mattress.
Foldable chairs can also, of course, be taken to the beach. In addition to the on-theme print, I also like the name of this one. Wow!
The O.G. trail chair but with the MOST FUN PRINT EVER. Can you imagine how popular I would have been if I had showed up to summer camp with this?
Every product is independently selected by our editors. Things you buy through our links may earn us a commission.