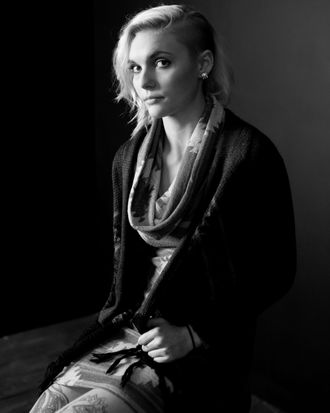 Daisy Coleman.
Photo: Randy Shropshire/WireImage
Daisy Coleman, the survivor at the center of the 2012 Maryville, Missouri, rape case and whose story was later featured in the Netflix documentary Audrie & Daisy, died by suicide on Tuesday evening. She was 23 years old.
Coleman's mother, Melinda, confirmed the tragic news to TMZ, elaborating that police discovered Daisy's body after Melinda requested they conduct a welfare check. She also mourned her daughter's death on her personal Facebook page, writing, "She was my best friend and amazing daughter … I wish I could have taken the pain from her! She never recovered from what those boys did to her and it's just not fair. My baby girl is gone."
Coleman became the subject of national attention in 2012, when she, then 14 years old, attended a party where she blacked out from drinking and was allegedly raped by 17-year-old Matthew Barnett, a senior football player who had familial ties to a former Republican state representative. Before dawn the next morning, Melinda found Daisy, who was wearing just a T-shirt and sweatpants in below-freezing weather, passed out on their doorstep. A hospital exam later confirmed Coleman had been raped, which led to Barnett's arrest. He ultimately faced few repercussions, however: He received two years' probation but was never convicted. Meanwhile, Coleman endured relentless victim blaming, and her entire family was harassed. People were "calling me a bitch, a whore, and a slut every single day," she wrote in Seventeen. One Fox News guest suggested Coleman had "expected" to get raped. Melinda claimed she was fired from her job at a local veterinary clinic over the scandal.
The ruthless bullying took a grave toll on Coleman, and in 2014, she was hospitalized following a suicide attempt; it was not her first. After recovering, she went on to advocate for survivors of sexual assault. She co-founded SafeBAE, a teen-led organization dedicated to preventing sexual assault in middle and high schools, and she retold her own story in the 2016 Netflix documentary Audrie & Daisy. The film also centered on the experience of Audrie Pott, who said she had been sexually assaulted by three boys in 2012 when she was 15 and who killed herself eight days after the alleged attack. In June 2018, Coleman also suffered the loss of her youngest brother, who died in a car crash.
In the U.S., the National Suicide Prevention Lifeline is 1-800-273-8255.