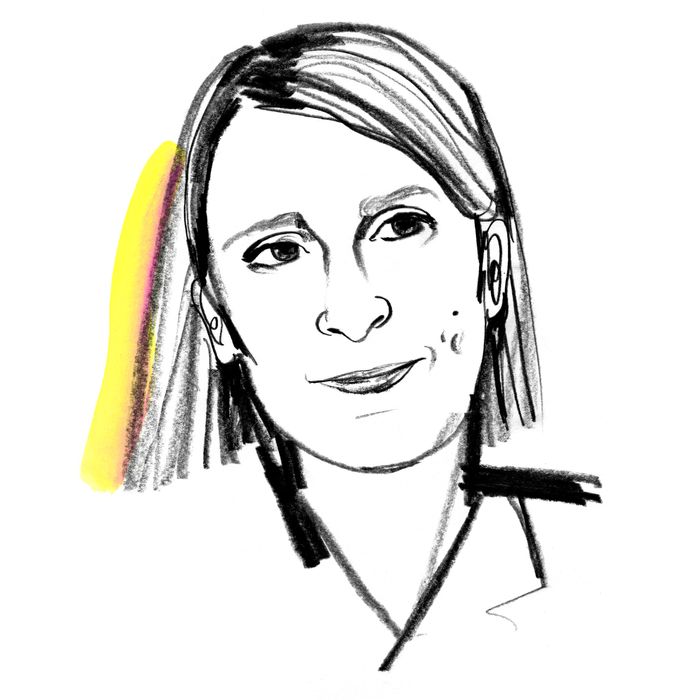 Illustration: Lauren Tamaki
Liz Feldman is the creator and showrunner of Dead to Me, a Netflix comedy starring Christina Applegate and Linda Cardellini as two friends who meet at a grief-counseling group. She got her start in Hollywood as a teenage stand-up comic, going on to perform with Second City and the Groundlings. She's since written for sitcoms like 2 Broke Girls and Hot in Cleveland, as well as for multiple Academy Awards shows. Most recently, she became the first female LGBTQ writer to win the 2020 Writers Guild Award for Episodic Comedy. Dead to Me was recently nominated for four Emmys, including Outstanding Comedy Series, and the show has been picked up for a third and final season. Feldman lives in Los Angeles with her wife, musician Rachel Cantu. Here's how she gets it done. 
On her morning routine: 
My morning routine is essentially the same as it was pre-pandemic, but it definitely skews more virtual now. I wake up and meditate first thing. Then I do my gratitude — I try to center myself in a place of feeling grateful for the people in my life and the blessings that I have. Pretty much every morning I try to exercise. In these COVID times, I meet with my trainer on FaceTime, or I'll pick a morning hike or pilates. It's something to get my body moving, which gets my mind moving, too.
After exercise and a quick breakfast situation, I go to my COVID office. My wife and I live in a very small bungalow, and she works from home, so it would be very difficult to get anything done here. We figured out this little freestanding office space in Hollywood. Do you remember the movie with John Travolta? The Boy in the Plastic Bubble? It was about a boy who's allergic to everything — literally the air would kill him. That's essentially my work situation. Me in my office every day, trying to avoid contact with people at all costs.
On working in a virtual writers' room: 
My favorite part of being a writer is being in the writers' room physically, and sharing a space with the writers, who are smart, funny, lovely people whose energy I really enjoy being around. I'm an extrovert, so I thrive off other people's energy.
It's much harder on Zoom. It's honestly just not healthy to ask people to stare at their screens, at your little face in a tiny box for ten hours a day. I think it's detrimental to people's health. Many of the people in my writers' room have children who are relying on them and don't understand that because they are at a computer they're at work. It's definitely been an adjustment, but for the most part it's doable. It's just not how I would ever prefer to do it.
On being a showrunner: 
It's hard being a showrunner. It's like 11 jobs in one. You're the head writer, but you're also a producer, and you're deciding what everything ultimately looks like, sounds like, feels like. Every person who works on the show has to go through me.
There are a lot of aspects of the job that are impossible to train for. I always joke, like, Why are they asking me? But you learn things very quickly. The pressure is quite large because the production is on your shoulders. But it's also an amazingly collaborative job. And as much as I'm the lady in charge, there are so many people who contribute to the show being what it is.
On pitching Dead to Me: 
I'd been a comedy writer for so many years, and I had written on broad network sitcoms. When I came up with the idea for Dead to Me, I knew immediately that this was something different. I wanted the opportunity to tell a full story, a full arc of characters having a real human journey. I came up with this idea about these two women's grief, and I knew I wanted it to be this very genre nonconforming half-hour. It was a bit of a hard sell because it was hard to express the tone. It's truly how I'm looking at the world, the lens through which I see everything — that the darkest stuff has particles of comedy and that the funniest shit is really, truly dark. Luckily, I was able to convince Netflix that this was a worthy endeavor. It's definitely been the challenge of my life.
On trusting her gut: 
I created the show from a place of real vulnerability. I had just turned 40, and my cousin died unexpectedly on my 40th birthday. I was trying to get pregnant at the time. I went home to New York for my cousin's funeral, and I had lunch with my friend in New York, and she told me she was pregnant, and the following day I found out I was not. From this very dark place, I came up with this idea and realized that it could be a way for me to process and express my own grief and loss.
I had a gut feeling that if I could do it right, that other people would connect to it, because if you've lived on this earth long enough, you have lost someone. I followed my gut, and for the first time, something I've created has really connected. And it is an incredible feeling. I mean, it's amazing to be recognized critically, and it's a total dream to have Emmy nominations, but truly, and I don't just mean this in a schmaltzy way, the greatest gift of the show is that people have reached out to say, like, "I'm a widow and this is the first time I've seen my experience reflected in a way that feels real." Or, "I'm a woman who wasn't able to have a child." And those connections are incredibly meaningful. More than any sort of commercial success, it's that bridge to other people that feels the best.