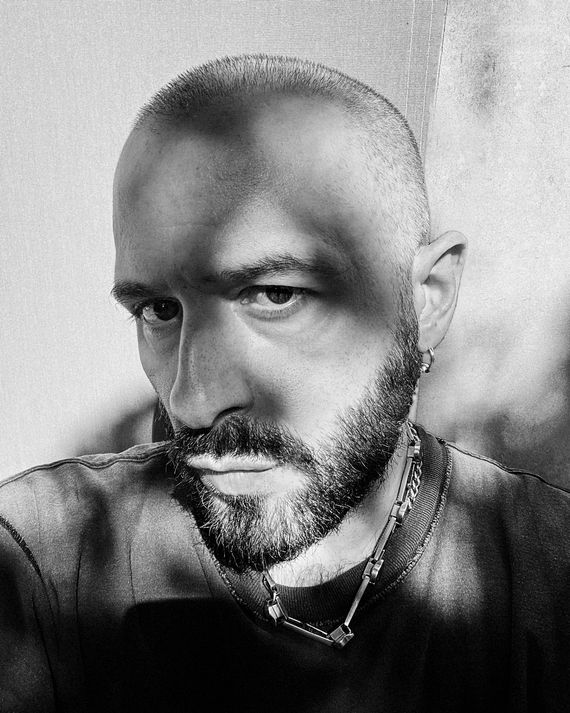 Photo: Christopher Anderson/Magnum for New York Magazine
Demna Gvasalia has been the creative director of Balenciaga since 2015—the first person from the former Soviet Union to achieve such a perch in fashion and only the second major designer to come out of that part of the world in a century. She was Valentina Nicholaevna Sanina Schlee, the New York couturier known simply as Valentina, who, between 1928 and 1957, created clothes of astonishing originality.
One was born in Kiev in 1899 and fled during the Revolution; the other was born 82 years later in Sokhumi, on the Black Sea, where his family endured Georgia's civil war in the early '90s and eventually settled in Germany. What separates the lives of these two people—and explains the immense gap in between—is totalitarianism, of course. It crushed the ambitions of generations of writers, artists, thinkers, and, presumably, designers in the USSR as well as in the nations of the Eastern Bloc.
Gvasalia has shown, first with Vetements, the label he founded in 2014, and more ambitiously with Balenciaga, that coming from a repressive state was not a creative dead end—that the experience of fear, isolation, propaganda, secret police, and bad clothing was as valuable a birthright as any in the West and maybe more relevant, given everything that's happening. And he has proved that even great houses like Balenciaga need not depend for their survival on the values and feelings of the West, that they can go outside for creative expression and actually thrive. Since Gvasalia joined the 83-year-old French company, annual sales have more than doubled to $1 billion.
His clothes convey a sense of control and a sparseness, occasionally taken to extremes, with molded suits and steroidal puffers. They don't attempt to ring the usual aspiration bells. The shows seem designed to throw you off your bearings. Is a thing real, or is it fake? The spring 2020 show was set in a modern government chamber, totally fabricated, with models clad in democratic power dress. Was the show disturbing because it seemed to normalize the banal uniforms of power and therefore power itself? A colleague thought so: "Detestable—without hope." Or was it a bit like a political meme, funny but not really funny? Then in March, shortly before the lockdown, Gvasalia invited us back to the same space, now virtually blacked out with a deep, dark chasm in the center. Except it was a fiction, or a double fiction, because the chasm turned out to be a shallow pool of petrol made to look like water, and the narrative a dystopia. Manipulating your ability to perceive reality, creating what cybersecurity experts call "media mirage," are tactics of Russian trolls and propagandists, as I learned from a 2018 piece by Masha Gessen. But the point is, Gvasalia makes contact with the audience in a way that is uniquely different from the rest of the industry.
Three years ago, Gvasalia moved to Switzerland, and that's where I found him in mid-May, sheltering in place with his husband, the well-regarded musician and composer Loïk Gomez, at their rural home near Zurich. Before the pandemic, he commuted once a month to Balenciaga in Paris by train. He is warm, quick to laugh, and extremely polite. He speaks seven languages, holds degrees in economics and fashion design, and is 39.
Before the pandemic even hit, he'd asked his creative team to imagine what fashion might look like in 2030. To imagine a kind of fashion time machine. What would the world need then? Why not make it now? Gvasalia said he picked a year in the foreseeable future because our own accelerated period of change backs up belief in the imaginary. "We can still connect to it," he said. "One of the most important things to us [on the team] was the idea of reducing, because it's also something we're facing now because of the pandemic. Do we need so many products?"
Indeed, budget cuts as a consequence of plunging revenues have forced designers everywhere to be nimble. Gvasalia gave himself the challenge of doing the whole collection in sustainable fabrics—a first at the house and eons from the silk bombazines and zibelines of Cristóbal Balenciaga's day. "Nobody will see much of the difference, but it just feels different," he told me.
He has also been pondering different methods of communicating his vision, namely, "the show." Or will shows go the way of dear old bombazine and zibeline even after it's safe to gather again? "It shouldn't always be a repetitive kind of thing, a show always during Fashion Week. You have the 200 people who are invited to the show and 80,000 watching it online. And all this effort and expense of making this huge set and 20 minutes—that's the longest show I've ever done."
He laughed. "It's quite 2010. It doesn't go well with the whole idea about the future." Digital is one option, he said, but "I think we can also create more experiential events, where … it's something that takes place over a longer period, so the investment in the scenography actually makes sense. And the event doesn't have to happen only in Paris."
I asked him if he had seen the remarkable films from the 1950s and '60s of Balenciaga's couture shows, held in the house. They typically took place over a number of days for the international buyers attending the collections and, as well, his devoted clientele. He had: "They lasted all day and the clients would just drop in!" (He plans to bring back haute couture at Balenciaga. His first collection had been scheduled for July, but because of COVID it has been put off until next year.)
In the course of my conversations with designers these last several months, I often felt that despite their desire to take advantage of this new energy, and maybe again move the needle of fashion, something was standing in their way.
Gvasalia claimed, "It's not that people don't want to buy, but they're thinking about it and investigating more before they do. That's why the innovation in creativity is more important than ever. But, of course, what's in the way is business. And business is just based on money. It's very difficult for creatives to face that and to keep on your feet. I would say it's a battle every day.
"If I gave the possibility to the merchandiser [at Balenciaga] to do what they want, there would be no Demna in the aesthetic vision at all. Because they would think, We know what sold well in China, we know what sold well in America last season and the season before, and we just need to do the same but in a different color. This is how they think it works, but the problem is the customer is much smarter than that. And they are getting smarter, and I think it will not stop."
When I spoke to Gvasalia in June, the protests sparked by the murder of George Floyd had spread to other parts of the globe. At the same time, the fashion industry, at least in the U.S., was issuing mea culpas from every corner over its own role in practicing and promoting racial bias. Gvasalia, too, has been criticized in the past for not having racially diverse casts at Vetements and Balenciaga, though he's worked to rectify that in recent years. "Racism is a problem everywhere. It has to change," he told me. "I don't think a luxury brand in five or ten years can exist without that value support. That would really be suicide."
But Gvasalia has also fought his way to acceptance. Speaking to him, I finally understood how truly difficult it is to bring non–Western European expression into the fashion world and make it stick. It's so rare that it's happened exactly once in the past 50 years—when the Japanese designers brought their radical methods to Paris. Granted, a lot of Gvasalia's work was influenced by Martin Margiela (he once designed for the MM brand), but that doesn't show today.
When I spoke to Gvasalia again, in July, I asked him about this visible change at Balenciaga in the last year or so. I was motivated in part by the calls for more diversity, and I thought his answer might help open up a path for an aspiring designer in China or Russia or the U.S. Because while a creative vision is crucial, it's only one factor.
"Getting people to listen to you, it's difficult," he said. "In the way that they communicate, linguistically, but also sometimes the way you express yourself can be taken, like, it's rude." It also takes money. "In Russia, it's only the top of the pyramid that can afford to go to the West, because to get a visa you have to show income."
Gvasalia talked about work he has done on the issue of identity, both personally and artistically. ("I can tell you, I discuss it with my shrink every single week.") I asked him again about the difference at Balenciaga—what had released that wonderful, chilling remoteness into the world? "I got rid of fears. Creatively, it really helped me—I stopped being scared of what people will think, what people will say. I became more true to myself."
*A version of this article appears in the August 31, 2020, issue of New York Magazine. Subscribe Now!