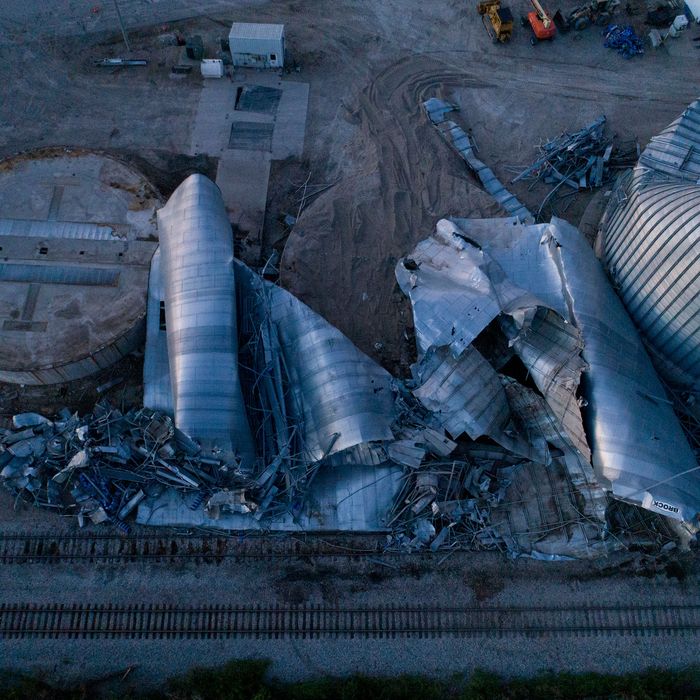 Two destroyed grain bins at the Heartland Co-Op grain elevator on August 11 in Malcom, Iowa.
Photo: Daniel Acker/Getty Images
One week after a powerful and widespread wave of windstorms, known as a derecho, ripped its way through Iowa — flattening millions of acres of crops, damaging homes and grain elevators, and leaving four people dead — over 70,000 people are still without power, and many are without access to water, aid, or medical care.
Near Cedar Rapids, Iowa, winds from the storm reached over 100 mph — roughly the speed of an inland hurricane — and the majority of all residential and commercial buildings in Cedar Rapids suffered some damage, Cedar Rapids Fire Department chief Greg Smith told the press on Friday. According to the New York Times, state officials estimate that 14 million acres of crops were damaged, over a third of the state's farmland.
Dramatic pictures and videos from people on the ground show crumpled grain silos, uprooted trees clocking streets, and power lines bending like paper in the force of the wind.
On Monday, three days after Iowa governor Kim Reynolds announced that she was requesting $4 billion in federal assistance, President Trump said that he had signed an emergency declaration for Iowa to provide emergency funds for the state.
The derecho came as Iowa was still struggling to address the coronavirus outbreak. "It's tough," Governor Reynolds told Iowa's KCRG last week. "You know when you look at COVID and the impact of that, and you know we're trying to get life and livelihoods back to normal, and then to be hit with a storm of this magnitude and a disaster of this magnitude, people are tired. They're worn out."
Below, what we know about the storm and its aftermath.
What exactly is a derecho?
Per the National Oceanic and Atmospheric Administration, a derecho is a "widespread, long-lived windstorm that is associated with a band of rapidly moving showers or thunderstorms." Unlike a tornado, in which air spins, the wind in a derecho moves in one direction and in a relatively straight line.
As Aaron Lehman, the president of the Iowa Farmers Union and a corn and soybean farmer, told Harvest Public Media: "Unlike a tornado, which is a mile wide, this stretched for a width — of really intense damage — of approximately 40 miles, probably closer to 60 to 70 miles wide."
He added, "It's by far the most extensive and widespread damage that we've seen on this farm."
To be classified as a derecho, a storm has to have a wind damage swath of over 240 miles and wind gusts of 58 mph or greater along most of its length.
What kind of damage was done?
In addition to the 13 million acres of crops that were damaged, officials estimate that about 8,200 homes were extensively damaged or destroyed. According to CNN, in Cedar Rapids alone, more than 20 school buildings were damaged, and more than 800 residential and commercial buildings experienced "full or partial collapse of the roof, walls, ceiling, or floors."
"The devastation is widespread. It's intense. Block after block of houses, every one with some amount of damage. Trees piled six to ten feet high along the road. It's like walking through a tunnel of green with some fluorescent orange of placard houses that are unsafe to enter," Cedar Rapids City Council member Tyler Olson told NPR's Weekend Edition on Saturday.
Weather.com also reported last week that four people had died as a result of the storm. In Iowa, two people died from collapsing trees, and one, an electrician, was electrocuted while reconnecting a power line. In Indiana, which was also affected by the derecho, a woman reportedly died when her mobile home was rolled by the wind.
While the storm initially knocked out power for over 400,000 Iowans, over 70,000 are still without power, and some are without medicine, food, or shelter.
"We need electricity," Olson told NPR. "The [Iowa] National Guard arrived a couple of days ago to assist with utility with power back on, but we have citizens without food, without medicine. And we're working as hard as we can as a city to meet those needs, but we really need the federal government and their resources."
How can I help?
For those interested in helping Iowans recovering from the effects of last week's derecho, you can check out the Iowa Derecho Storm Resource Page on Facebook and donate to groups like:
• United Way of East Central Iowa (volunteers needed)
• Horizons' Meals on Wheels
• Hawkeye Area Community Action Program
• Greater Cedar Rapids Community Foundation Disaster Recovery Fund
• American Red Cross in Iowa