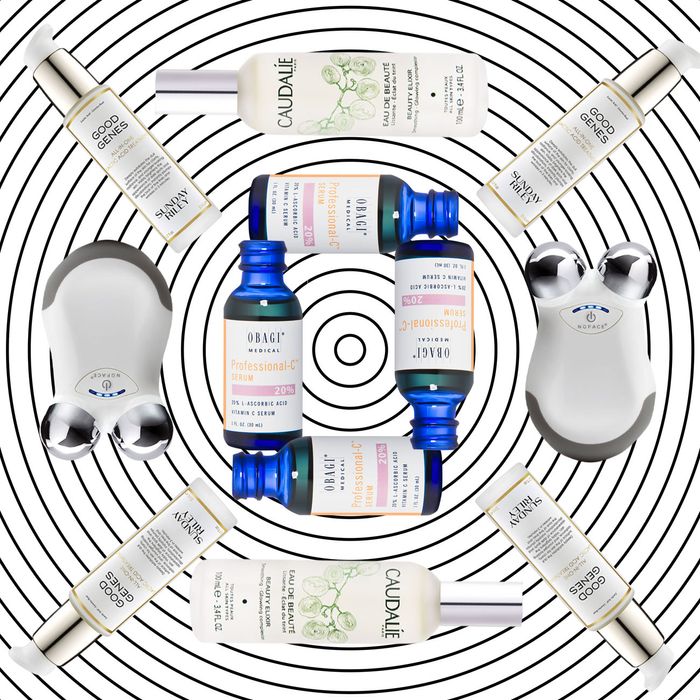 Polish off your product empties and clear some shelf space: It's Dermstore's 21st birthday, and the beauty retailer is celebrating by taking up to 25 percent off prestige and professional products that give the gift of really good skin year round. The highly anticipated anniversary event is on until August 17, and yes, you're invited. All you need is the code CELEBRATE at checkout to unlock discounts on participating brands like Sunday Riley, Obagi, Slip, and NuFace. Whether you're looking to restock some cult-favorites or simply treat yourself to something nice during an especially sweaty summer, here are eight things to consider adding to your gift bag.
The At-Home Facial
An almost identical set to this is already sold-out at Nordstrom's Anniversary Sale, but you can still pick up this microcurrent set here. Microcurrent facials are beloved by celebrities and aestheticians alike for their ability to gently de-puff skin. (They're also clinically proven to work, as they were originally developed to help Bell's Palsy patients). This is a gentler version of the kind used at a fancy facialist office, and it takes five minutes to use. —Kathleen Hou, Beauty Director
A Conditioner for Your Lashes
Your brows may be looking fuller than usual these days, but what about your lashes? If you and your partially covered face need a little something more to work with as you attempt to smize, this moisturizing and fortifying serum of amino acids and biotin helps prevent breakage and makes lashes look longer and thicker over time. —Erica Smith, Beauty Writer
A Vitamin C Serum That Works
My mom and I are both hooked on this very potent, non-irritating vitamin C serum. At a 20 percent concentration, it is one of the strongest around. And it isn't just us — there are almost 500 five-star reviews on Dermstore's site praising how it effortlessly lifts away acne scars and brightens skin tone. —K.H.
The Famed Foot Exfoliator
Excellent news for those who have yet to experience the marvels of foot shedding due to the great Baby Foot shortage of 2020: the exfoliating booties are back in stock. The peel is typically a pre-summer ritual, but since time has melted all the months into one, go for it whenever. It's nice to have something to look forward to, even if it's just your feet shedding their dry, cracked, former selves to emerge anew. —E.S.
The Gentle Skin Smoother
A Moisturizer for Thirsty Faces
A WFH Pick-Me-Up
It's hard to take true breaks when your home now doubles as an office/gym/bedroom. While it's not as good as walking to the office kitchen to gossip with my co-workers, this zesty mist from Caudalíe helps. It has a slightly herbally, almost medicinal smell which I love, and misting my face like it's a delicate plant actually feels really good. It's a nice mental reset, and my face looks noticeably less gray and dreary after using it. I keep it in the fridge. —K.H.
Silk Pajamas for Your Hair
This luxurious sleeping cap that's double-lined with silk is another nice treat. It's as easy on the eyes as it is on your hair, and it ensures all of it (in my case, a bunch of fragile curls) wake up in a good mood and in one place. Equally important, slipping it on instantly makes you feel like a very glamorous person retiring for the night, even if you're wearing a retainer and dots of pimple cream abound. —E.S.