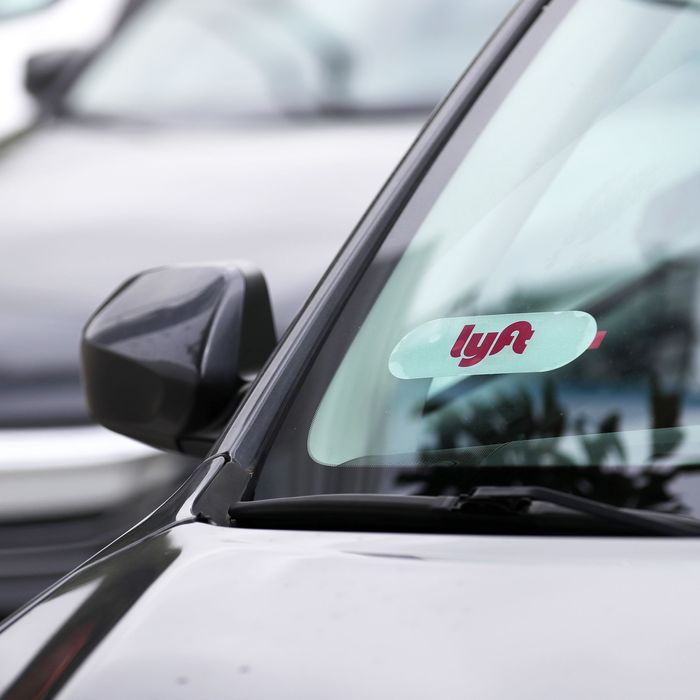 Lyft car.
Photo: Justin Sullivan/Getty Images
For months, the state of California and two leading ride-hailing companies, Lyft and Uber, have been ensnared in a bitter legal battle. The issue at the heart of the conflict: Lyft and Uber don't want to adhere to California's recent pro-worker legislation that would require them to treat their drivers — some of whom work well over 40 hours per week — as employees who are entitled to benefits. The companies have consistently argued that their drivers, who are currently classified as independent contractors, should not be considered employees. However, many drivers disagree. "Next month, I turn 60," one driver told Motherboard. "I want sick days, health insurance, and overtime pay, but they want to take that away."
This week, the situation came to a head as a court-mandated deadline for Lyft and Uber to reclassify their employees was fast approaching. On August 20, one day before the deadline, Lyft announced it would be suspending operations in California, and Uber signaled that it would follow suit. That same day, a California appeals court granted an emergency stay for the companies to continue business as usual, avoiding a shut down — for now.
So what's going on? Are Uber and Lyft eventually going to cease operations in California? Here's what we know.
California passed a landmark labor law last fall.
California is one of the most pro-worker states in the country. Last September, it passed Assembly Bill 5, a landmark labor law that cracks down on the misclassification of employees as independent contractors. Misclassification is rampant, and often benefits employers: By misclassifying employees as independent contractors, companies can get away with underpaying workers and denying them benefits like overtime pay, paid sick leave, and unemployment insurance.
Lyft and Uber have long argued that their drivers are not employees.
Even before California passed AB5 last fall, both ride-share companies have contended that drivers should not be considered employees. According to the Washington Post, the companies have argued that the legislation doesn't apply to them, and that adhering to the law would harm their businesses, neither of which are profitable. (Both companies contend that they are technology platforms, not transportation companies, meaning their drivers do not contribute to the core of their business.) But per Wired, labor experts agree that under AB5, drivers qualify as employees, which would require Uber and Lyft to provide them with basic labor protections including health and unemployment insurance, minimum wage, paid sick days, and overtime pay.
Lyft and Uber have also insisted that their drivers don't want employee status, but drivers tell a different story. "We are waking up and saying 'hey it's about time we get our rights," Hector Castellanos, a Uber and Lyft driver who has demonstrated in support of becoming full-time, told Motherboard earlier this month. "I had an accident in 2017 and wasn't able to walk for 8 months, but did not receive any benefits from Uber or Lyft. But as employees, we don't have to wait for access to those benefits."
California has been trying to crack down and Lyft and Uber for violating the law.
The situation started to escalate in May, when the state of California and three major cities — San Francisco, Los Angeles, and San Diego — sued Uber and Lyft for flouting the law. In June, California's attorney general Xavier Becerra Becerra filed a request for a preliminary injunction; then, earlier this month, a California judge gave Uber and Lyft an August 21 deadline to reclassify their employees. Predictably, the companies did not acquiesce, and instead threatened to suspend operations.
Threatening to shut down is not a new tactic for Lyft and Uber, and it's one that has worked in the companies' favor in the past: In the spring of 2016, both companies suspended service in Austin, Texas, after voters approved a ballot measure requiring fingerprint-based background checks from drivers, which the ride-hailing companies protested over concerns that the legislation would prolong the process of enlisting new drivers. Customers were upset, and, about a year later, Texas state legislators passed a bill removing the fingerprinting provision — after which both companies returned to the city.
The situation came to a head this week.
On August 20, just one day before California's deadline — and after Lyft announced that it would be suspending operations at midnight — a state appeals court halted the court order, preventing a shutdown. In short, the 11th-hour order grants the companies more time to complete their appeals. Now, the CEOs of Lyft and Uber have until September 4 to submit sworn testimony showing that they have developed a plan to comply with AB5, in the event that both their appeal and a current ballot measure (more on that below) fail. Oral arguments have been scheduled for October 13.
The threatened shutdowns come at a brutal time for California residents.
Like many gig economy workers, drivers for ride-hailing companies have suffered financially due to a reduction in workload amid the pandemic. By current estimates, ride bookings have fallen a staggering 75 percent in the past few months. Additionally, Wired reports that because Uber and Lyft don't consider drivers employees — and as a result, don't pay into unemployment insurance programs — they often don't quality to receive state-run employment.
"We have millionaires who are choosing — not forcing — but are choosing to lay off ordinary people in the middle of a pandemic because they choose not to follow the law," Cherri Murphy, an Oakland resident who drives full-time for Lyft, told the Washington Post. "This is not a surprise to anybody; they've had an extended amount of time to resolve this. The only people who put themselves against the wall have been Lyft and Uber."
This legal battle also comes amid a relentless, sweltering heat wave that has sparked widespread uncontrolled wildfires in the Golden State that show no sign of abating, which have displaced tens of thousands of residents. As of Friday morning, blazes have scorched more than 660,000 acres.
Lyft and Uber are trying to mobilize users around a proposition that could exempt them from the law.
To further protect business interests, Lyft and Uber have been mobilizing around a November ballot measure called Proposition 22, which would exempt app-based ride-hailing and food delivery services from AB5. Per Motherboard, Lyft and Uber have spent a collective $90 million on their campaign to pass the measure — which, if passed, could reduce drivers' earnings to $5.64 an hour, by an estimate from UC Berkeley Labor Center. California's minimum wage is $12 an hour.