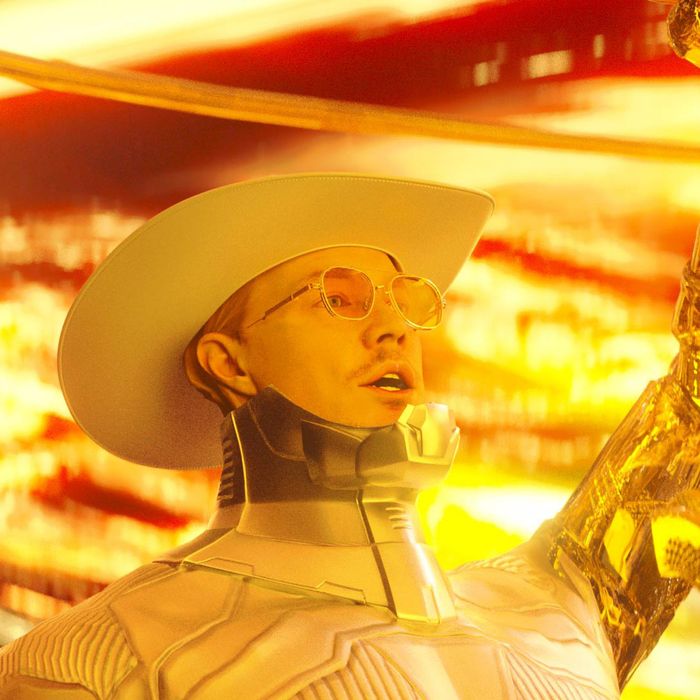 Diplo, saving us all.
Photo: Courtesy of GENTLE MONSTER
There's an asteroid headed for Earth just before Election Day, but don't worry — it's not very large. Still, it made me wonder: If a giant flaming rock ball was ever actually on course to wipe us out, who would save us? My answer is Diplo.
Before you deem this claim "ridiculous" or "fake news," I present to you video evidence from South Korean brand Gentle Monster, which just collaborated with the buff cowboy, DJ, mogul, and dad on an eyewear collection. The brand makes its case with a 3-D-animated situation that's pretty believable in 2020. A news broadcast states that an unidentified glowing sphere has appeared in the sky, causing widespread fear and chaos. The "government" takes drastic measures and calls upon Diplo, a space cowboy, to save the world. He boards his futuristic craft wearing a metallic space suit, a cowboy hat, and, of course, a stylish take on the classic aviator from his glasses collab. Approaching the enemy on a mechanical Pegasus with lasso at the ready, he doesn't even need a helmet for oxygen in the far reaches of outer space — he's Diplo.
Now, the video never actually shows him eliminating the fiery, moon-size sphere, but I really believe he did it. See for yourself below. The glasses drop September 1 at Gentle Monster here. Much like Diplo, they'll keep your eyes protected from large glowing objects while also looking very cool.