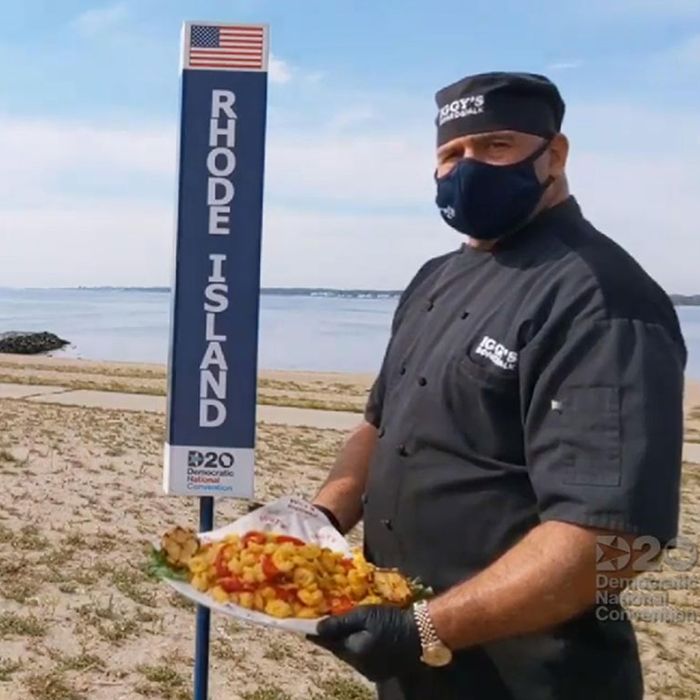 Tuesday's virtual roll call during the Democratic National Convention was a highlight of the event, viewers agreed. In a video montage aired over roughly 30 minutes, representatives from 57 states and territories cast their nominating votes for the Democratic Party's presidential nominee while showcasing the beauty and spirit of each of their lands. The videos were powerful, moving — an inspiring reminder of the country's rich geographic and cultural diversity. And yet, no clip captured the public's imagination quite like Rhode Island's, which raised a question rarely posed during the electoral process: "Is that … calamari?"
In his state's video, Rhode Island representative Joseph McNamara stood on a sunny, picturesque beach and boasted, "Our state appetizer, calamari, is available in all 50 states." To his left, a masked man, clothed head to toe in black, stared menacingly into the camera while wielding an absolutely massive tray of deep-fried squid.
Who was this mysterious Calamari Man? Was he friend or foe? Was the heaping tray of delicious-looking calamari an invitation? Or a threat? Why did he look like a seafood restaurant's bouncer?
As the Washington Post reports, the man behind the mask is John Bordieri, the executive chef at Iggy's, a chain of three seafood restaurants in Rhode Island. And although he has emerged as a key figure in the Democratic Party's nominating process, Bordieri says he's not particularly interested in politics, and isn't sure he'll vote for Biden at all.
"Everything to me is always the same," he told the Post. "They say they're going to change health plans, the economy, the workforce … The only thing that really changes is the price of things going up, and all these rich people making more money."
Ah, a complex, multifaceted anti-hero. As another Dark Knight once said, "It's not who I am underneath, but the appetizers I eat that define me."