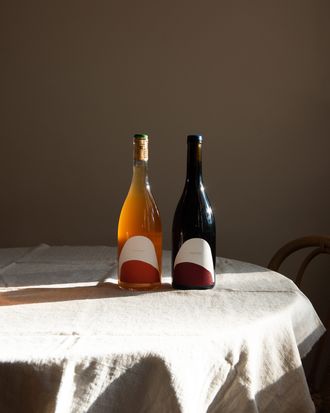 Even if you don't have your own sun-dappled linen tablecloth, these will look just as good on your Ikea kitchen table.
Photo: Courtesy of Vivanterre
When work takes you to Paris, one of the many added bonuses is the wine. For Rosie Assoulin and her husband Max (partners in Assoulin's namesake label as well as in life), the cycles of fashion brought the family to France a handful of times every (normal) year, and one of the pleasures of those trips was hosting friends and clients at their Paris showroom. The wine flowed, as it does, with certain, hard-to-find bottles exerting a stronger pull: the "unicorn bottles," Rosie called them. Already natural-wine enthusiasts, Rosie and Max became devotees, and some of the rarest of the unicorn bottles hailed from the small Domaine La Bohème in Auvergne, a region in central France. "Sometimes we'd carry bottles back home in our suitcases," Rosie said. "We've had a few crack."
Not that they needed an extra project — the Assoulins already run the Rosie label, as well as By Any Other Name, a secondary line that debuted last spring — but they'd fallen for the charms of natural (that is, low-intervention) wines and they'd made the kinds of connections that grease the wheels of progress. The team at Galeries Lafayette in Paris, which stocks the collection, had an in with Patrick Bouju and Justine Loiseau of Domaine La Bohème, and Cedric Nicaise, the wine director of Eleven Madison Park — one of New York City's great wine restaurants — was a friend. (He and his wife set up one of Rosie's sisters with her husband.) Thus was born Vivanterre (from the French for "living earth"), a new collaborative project between the Assoulins, Nicaise, and Bouju and Loiseau. Though the Assoulins run both businesses, they insist the only connection between the two is their presence in both; the bottle and label design, in fact, is not by Rosie, but by Omar Sosa, of Apartamento Studios.
Made to the Assoulins' vision, with Bouju and Loiseau's expertise, and Nicaise as the Francophone–oenophone translator in the middle, Vivanterre launched with two wines: an orange wine ($32), made from Gewurztraminer, Sylvaner, and Ugni Blanc grapes from Alsace and the Languedoc, and a light red ($38), made from Gamay grapes grown in Moulin à Vent in Beaujolais. The orange is the Assoulins' particular passion, with notes of lychee, tea, and tropical fruit. "We kept having a conversation about what would we do if we ever had the opportunity to do it," Max said. "It's almost the holy grail." "Orange wine can often be confrontational," Nicaise said — for better or worse. But not Vivanterre's. Nicaise called it "really fun," but also serious enough for contemplation.
The wines were produced in small quantities — just 500 cases each — and are already being poured and sold at New York restaurants including Charlie Bird, Pasquale Jones, Cafe Clover, and Red Hook Tavern. Bottles are available for sale on their website (for online delivery via Parcelle), or at cultish stores like Leisir in Chinatown and Helen's Wines in L.A. Plans are underway for the next offerings — new varietals for next year are being batted around — but where it goes from here is still TBD. "We don't know when it's going to end, what the crescendo is," Rosie said. "I feel extremely okay saying that now, especially with everything going on in the world."