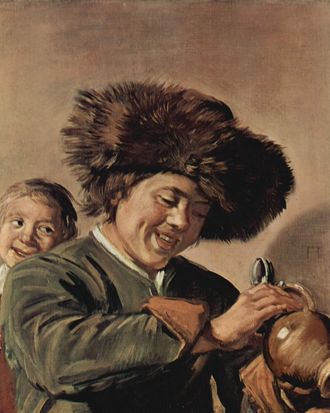 Two Laughing Boys Frans Hals.
Art: The Yorck Project
While I do not claim to be any sort of expert, I'd like to think I know one or two things about art. I have been known to partake in "gallery hopping." I've been to so many art museums, I can't name them all off the top of my head. I even know that Monet and Manet are not the same person. And yet, when I heard the news that a Dutch masterpiece had been stolen from a museum, and for the third time, I did not imagine that said artwork would be, well, a painting of two young lads about to get sloshed out of their minds.
The New York Times reports that on Wednesday, at approximately 3:30 a.m. local time, alarms rang out at Het Hofje van Aerden, alerting law-enforcement that someone had broken into the tiny museum in Leerdam. When officers arrived at the scene, they discovered what was missing: "Two Laughing Boys" by Frans Hals, which has been stolen two times before, in 1988 and 2011. (The painting was recovered both times, and the thieves were convicted.) While a spokeswoman for a Netherlands police department told the Times that authorities are still "at a very early stage in the investigation," they have "no idea where the painting is at this moment." On Twitter, the mayor of the municipality called the theft "sad art news."
Now there are a few explanations as to why "The Laughing Boys" keeps getting stolen — namely, that the painting is worth an estimated $18 million. But in an interview with the Times, Arthur Brand — who has been dubbed the "Indiana Jones of the art world," and is actively hunting for the work — speculated that the thieves were also drawn to the painting because others before them had tried to swipe it, leaving them to conclude the work "must be important." And of course: Whom among us has not found themselves peculiarly attracted to some entirely unexceptional man, precisely because someone else — likely hot, smart, cool, etc. — had previously shown interest in him?