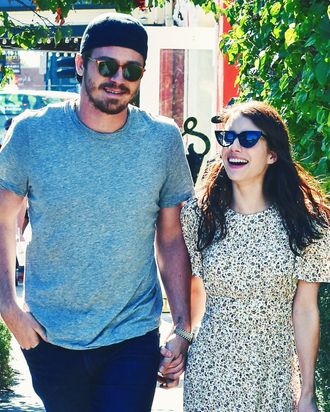 Garrett Hedlund and Emma Roberts.
Photo: BG015/Bauer-Griffin/GC Images
At last, Emma Roberts has confirmed what celebrity-news outlets (and her mom) have long been reporting: She is indeed expecting her first child with actor Garret Hedlund, known for his role in Mudbound and Friday Night Lights, and whom Roberts has been quietly dating for a little over a year now.
On late Sunday night, approximately two months after Us Weekly reported that she is pregnant, Roberts posted a photo of herself and Hedlund to Instagram, in which she's cradling her protruding stomach — an unmistakable baby bump. And then, her caption: "Me … and my two favorite guys," alongside two blue hearts. So we all agree this post doubles as an announcement of the baby's sex, yes?
While the comment section under Roberts's post is replete with elated messages, the baby news was initially met with some surprise, as many were unaware that Roberts and Hedlund were serious about one another. When the couple was first spotted holding hands in public in March 2019, Roberts had just ended her engagement with her on-again-off again fiancé, Evan Peters, and a source told E! that Roberts and Hedlund were simply "exploring a relationship." And, since then, Hedlund has only appeared on Roberts's Instagram once. (Hedlund abstains from all social media).
Congratulations to the couple for officially exiting the exploration phase of their relationship and entering one that's significantly more binding. Seeing as the pair is partly bound by their love of books, I envision many forthcoming baby reading lists.
This post has been updated.