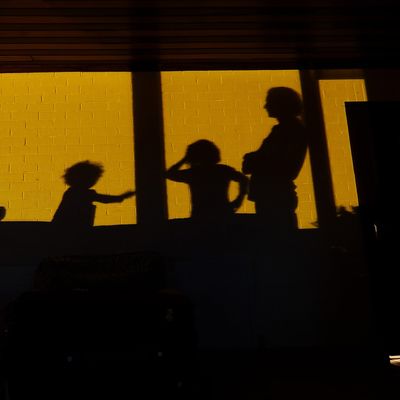 Photo: Nicholas Nelson/EyeEm/Getty Images
Crystal is 27 years old and one of the many people globally for whom staying at home during the pandemic didn't automatically mean safety. She considers herself lucky, though, that she escaped her abusive partner and the father of her three children just a few weeks before the coronavirus shutdowns, and has been living in shelters ever since. Since the beginning of the pandemic, advocates have worried about a drop-off in reports to hotlines and to the police, which could mean those in abusive situations don't feel safe to even call for help — or that they think a shelter could be worse, given the risk of the virus. Meanwhile, people like Crystal, who did get out in time to rebuild their lives, face a devastated job market, closed government agencies, and homeschooling without access to their prior support networks.
The interview that follows has been edited for length and clarity. 
What made me leave was that things were changing and they were getting worse. Our arguments were getting worse. I kept it a secret. We were together nine years, and that was going on for five of them. I have three kids — two girls and one boy, and they're 5, 4, and 3. The last argument that me and him had, that's where I decided we needed to get out. The next day, I woke up and took my daughter to school. He was like, "You better come right back." And just the tone that he spoke to me — I was scared and I decided right then and there. I crossed the street from the school and I called the police. And I waited about 15 minutes, and he was calling me like, "Where are you? Where are you? I'm coming to get you." Finally, the cops get there and see that I had marks on me. While I was speaking to them, giving them my report, my ex came out of nowhere. He was hostile and they arrested him. The woman cop that was there with me, she came back with me to the apartment so I could get my other two children to go back to a station to make my report while they processed him.
I got a restraining order and for a few days we stayed with my godmother. Safe Horizons found a shelter for me that Friday, January 24. We'd been living in New Jersey and the shelter was in the city. It's a shelter for women with children where you live in your own apartment. I got in an Uber with a duffel bag, a suitcase, my three kids, and $800 in my pocket. I told my kids that I got an apartment and we were moving. My oldest, she was iffy about it, you know. But the other kids were really excited.
Before all this, I worked in security. My operating site was at Blue Apron in Linden, New Jersey. I had to leave that job the same day I was placed in the shelter — the commute would've been too much and I didn't have anyone to care for my kids while I was gone. Still, I had so much planned for myself. I was finally free. I was planning on going back to school, finding a part-time job, rediscovering who I am as an individual. Then the pandemic started.
There were about 30 families living in the shelter. Three weeks in, we got an announcement that three families needed to be quarantined — and to please keep your hands washed because the sick families came in contact with other people. I was scared to even get in the elevator or to breathe the air in the hallway. Security would leave anything the sick family needed by their door. But still, it was scary. I was pissed, like, How can you just leave them here? And then I didn't hear of anyone, you know, getting gravely ill because of it or anything like that. So there were people that came in contact, but were they infected? They never disclosed that.
In April, I started putting in applications for apartments through the NYC Housing Connect website. It could take anywhere from two to ten months for someone to call you for an interview for an apartment. My housing director said honestly, because of the pandemic and NYCHA's shut down, it's all been moving very slowly. She's telling me, "Don't count on that right now. I don't expect any updates from them anytime soon," but, you know, so far I am putting in my applications.
In May I was transferred from the emergency domestic-violence shelter to a a second shelter, where you can live for up to six months until you find permanent housing. I'm still here, waiting to hear from the apartments I've applied to.Being unemployed has been difficult because I'm used to working. At first it was like taking a vacation. But after all these months, the vacation is over. Since I left my job before the pandemic actually started, I qualified for the $1200 stimulus check plus the additional $500 per dependent, but wasn't eligible to receive the $600 enhanced unemployment. I really budget, but when the budget runs out all I have is $250 every two weeks of cash assistance. And I get $549 a month in food stamps. Surviving in NYC with $250 every other week just isn't enough, especially when you have multiple children to care for and no extra help. And even with the city reopening, there's still not enough jobs for people to apply to. The American people didn't ask to be out of work out, it's a pandemic we couldn't avoid.
Still, I worry about the safety of going back to work. I don't want to expose myself, I don't want to bring the virus home.
Leaving your partner and being in a shelter, it's almost as if you're on the run. If you just got away, you're fine. Quarantining is fine. You're out of sight. I honestly feel safer because of the quarantine, and I'd bet that anybody else who came in for shelter during the quarantine feels the same way. They feel even safer because you could have been forced to be home with your abuser.
But even though you're feeling that sense of being safe, the thing is you're still scared, because you're like, Oh my God, I just left him, and what if he finds me? You go through all these thoughts because now you're sitting there quiet, and now you're just thinking about everything. You're safe, but you're going a little stir-crazy in your thoughts.
I allow my ex to see the kids at least once or twice a week for a few hours. We meet in a public place and the kids go from my shelter apartment to his mother's apartment. When he was first arrested, they charged him with harassment and false imprisonment and he had to pay a fine. But then when we went to court soon after, I dropped the restraining order, because if I didn't drop the restraining order then they were going to deport him. He's not a citizen, and in the state of New Jersey, domestic violence is a deportable offense. Everybody knows what deportation means: You're out and you're never coming back. I look at my kids and they love their dad so much. I was in danger, but that's still my kids' father.
If you are or have been the victim of partner abuse, please call 911 or the National Domestic Violence Hotline at 1-800-799-SAFE (7233).
Additional reporting by Charlotte Klein.