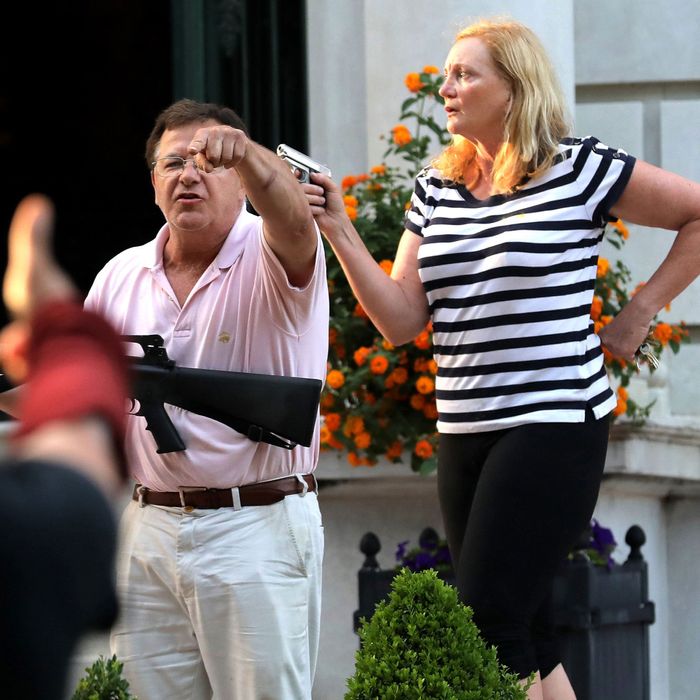 Photo: Laurie Skrivan/St. Louis Post-Dispatch/TNS via Getty Images
If the Republican party understands one thing, it's how to appeal to its base, something Trump in particular has mastered through a mix of increasingly blatant xenophobia, racism, and general opposition to anything Democrats are in favor of, like wearing masks in public during a pandemic. Fittingly, then, the Republican National Convention is already lining up speakers who seem to have no real qualifications, other than having recently gone viral for provoking mass outrage.
The choices reveal how certain media stories, especially ones so popular they cross the line to becoming cultural touchstones or memes, can act as focus groups for political movements. It's a notable departure from years past, when nonpolitician or military guests had typically been limited to celebrities, spouses, and everyday Americans (who aren't also memes). Maybe, next, the RNC will add a can of Goya beans to the roster.
Here are the viral sensations who've been booked for the RNC so far:
Gun-Toting Karen and Ken
In June, a wealthy, white married couple pointed guns at people protesting police brutality as they marched past their palatial home in St. Louis. Mark McCloskey, 63, wielded an AR-15 rifle, while his wife, Patricia McCloskey, 61, whipped around a semiautomatic handgun (according to prosecutors, her finger was "on the trigger"). The incident came at a time when reports of violent aggression toward protesters, who filled the streets of cities and towns across the country to demand justice for Black people murdered by police officers, were being published practically every day. The story quickly went viral, and the pair became known as "Ken and Karen."
On July 21, the McCloskeys were each charged with one felony count of unlawful use of a weapon last month. Trump called law enforcement's decision to prosecute the couple "a disgrace."
On Tuesday, the Washington Post reported that the couple will make an appearance and express their support for the president at the RNC next week, according to Trump advisers. The St. Louis Post-Dispatch reported that Mark will definitely speak (his lawyer confirmed it) and that Patricia will appear and possibly speak.
The Covington Kid
One of the biggest right-wing viral sensations of the Trump era has been Nicholas Sandmann, a.k.a. the "Covington Kid." In 2019, when Sandmann was a student at Covington Catholic High School in Park Hills, Kentucky, he attended the annual March for Life rally in Washington, D.C., with some of his classmates. Viral video footage taken of the event shows Sandmann and his classmates appearing to surround and jeer Native American activist Nathan Philips, who was there attending the Indigenous People's March. Sandmann was wearing a MAGA hat and staring at Philips with what many interpreted as an expression of smug hostility. A longer version of the video that was later released indicated a group known as the Hebrew Israelites provoked the high-school students. Shortly after, Sandmann filed a $250 million defamation lawsuit against the Washington Post, claiming the outlet had "wrongfully targeted and bullied Nicholas because he was the white, Catholic student wearing a red 'Make America Great Again' souvenir cap," in order to "advance its well-known and easily documented, biased agenda against President Donald J. Trump." That suit was settled in July; Sandmann also settled a similar lawsuit against CNN earlier this year.
On Tuesday, Fox News reported that Sandmann will speak at the RNC. Sandmann tweeted that he's very much looking forward to making his appearance there.