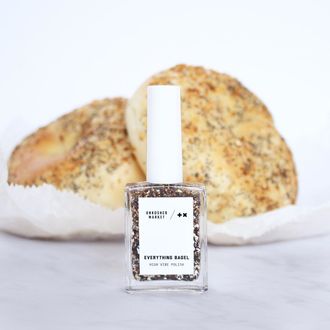 Photo: @unkoshermarket/Instagram
If you've been yearning to fight back against pumpkin spice's oppressive reign over the seasoning world, it may be time to put your support behind a more timeless spice blend: the savory mix that decorates everything bagels.
Clothing line Unkosher Market and Brooklyn brand Positive Time did just that with the launch of their new, "Jew-ish" Everything Bagel nail polish. It's made with "black dots, white diamonds, and a mix of gold, bronze hex shard glitters" that mimic the poppy seeds, sesame seeds, onion flakes, garlic flakes, pretzel salt, and pepper combo you can find on bagels (among other things). Now you can show your loyalty by simply decorating your nails like they're the chewy rings of bread, instead of blowing through your precious bagel budget.
Just a few swipes should be enough to transport you to a happier time, like last year when the Boy King casually brandished everything bagels on the red carpet, or earlier this morning, right before you inhaled your everything bagel. If you like to top your dough circles with dairy and omega-3's, there's also a mini set that comes with a coral-pink Lox polish and a creamy Schmear shade to help build a balanced breakfast on your nails.
The polishes are all vegan and hand-poured in NYC, bagel capital of the world, but like all the other beauty products you kind of want to eat, it is advised that you don't.