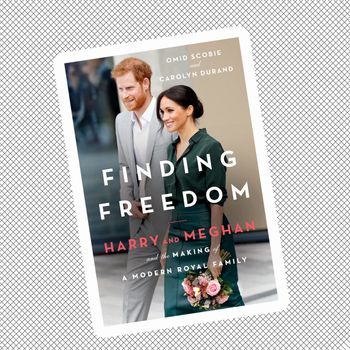 Photo: Courtesy of the publisher
Last week, after months of teasing, the definitive book about Meghan and Harry was released. Finding Freedom, which is written by two longtime royals reporters, Carolyn Durand and Omid Scobie, chronicles the escalating tensions between Prince Harry, Meghan Markle, and the rest of the royal family leading up to their unprecedented decision to step back as senior members of the royal family in January. While the couple was not interviewed for Finding Freedom, it contains a number of revelations and corrections, such as the true nature of Meghan and Kate's relationship, and the snobbish way Meghan was received by some members of the royal family.
But what Finding Freedom ultimately reveals is how much Meghan Markle was set up to fail, a victim of an institution that was wholly incapable of embracing her. What's more, it turns the spotlight on Prince Harry and his desire to be his own person in an establishment that is not only designed around conformity, but that punishes other ways of living. In spite of her husband's efforts to protect her, Meghan — throughout her engagement, marriage, and pregnancy — was a casualty of the British media, which built a racist and sexist mythology around her, one that was, ultimately, enabled by the crown.
Scobie, who has been covering the royal family since William and Kate's wedding in 2011, says that from the beginning, the tabloid stories about Meghan were very different from what he and Durand witnessed as reporters whose sources reached the highest ranks within Buckingham Palace. He spoke to the Cut about how the couple dealt with the widespread denigration before and after their marriage, and how, ultimately, their decision to step down made the most sense.
In the book you write about how some of the British press "did little to hide racial undertones in snarky commentary and headlines." Did you anticipate that Meghan would receive this kind of treatment? 
I'm a mixed-race royals correspondent — there aren't really many of us, or any of us. I was excited about this new chapter, and there were many people at the time, certainly around the wedding, that spoke about how Meghan would modernize the monarchy and usher in a new chapter for the House of Windsor.
But, ultimately, it was her differences that were weaponized against her. All the things that made her exciting at the beginning were suddenly the things that made her annoying or problematic for the institution. Many within the royal press core are the gatekeepers to information about members of the royal family. And that's why, often, we find that the narrative set by certain British tabloids sets the tone for the rest of a royal's working career.
But I think what was more worrying was that I noticed that a lot of the stories that painted her in such a light were often coming from within the palace itself.
What do you mean "from within the palace itself?" Do you mean from other royals, or staff? 
We have an interesting system within the palace as a whole. There are different households: Clarence House, Kensington Palace, and Buckingham Palace. Each one has the responsibility to look after the royal family members that they work for. These are the private aides, the communication staffers, the courtiers. They're the characters that work behind the scenes.
Often, it's a popularity contest: Members of the royal family are almost competing over coverage in the papers. For example, Charles is often frustrated that his children always get more press than him given he's often the more hardworking member of the royal family, and there are people within his household working to make sure that he gets as much of a prolific feature for his work as possible. Often that leads to jealousy within the different households as well.
What did that mean for Meghan and Harry? 
Harry and Meghan are really not considered the most senior members of the royal family, and suddenly they became the most talked about couple on the planet. People who didn't care about the monarchy before felt that, with Meghan, there was a woman in the House of Windsor that represented someone that they hadn't seen there before: It changed what it meant to be "royal and regal" — those connotations were no longer only associated with being white. This made Meghan a huge draw for the royals — but being a draw, you will also attract jealousy.
We noticed that some of the narratives being leaked out by courtiers or aides working within the households were things to make Meghan look bad. It was something that Meghan and Harry were aware of early on, but the royal family has a unique culture where they never comment on anything. Stories will go out in the press and that's it. They take on a life of their own and you have to deal with it. You don't get to comment.
As a newcomer, I think Meghan suffered. That "Duchess Difficult" label we saw attached to her by some of the British tabloids, it fed off of so many ugly, racist, and sexist tropes that we often see attached to successful women and successful women of color. She was "too loud, too difficult, too demanding, too obnoxious, couldn't keep the staff on hand." As someone that literally had a front-row seat to a lot of their work, I couldn't match up the two characters.
Time and time again, Harry and Meghan wanted to speak up. They wanted to say what was true and what wasn't true and defend themselves. And whilst the people immediately working for them were keen to do that, the powers that be much higher up would never agree to something like that — it didn't fit the "never complain, never explain" mantra of the institution.
Did you see Meghan and Harry take steps to resolve the problems they were having? 
In the summer of 2019, Harry actually had a conversation amongst his team and his senior aides within Buckingham Palace about restructuring that press system and making him and Meghan more accessible to a wider, more diverse media landscape. And the answer was well, If you want to do that, you can pay for your own engagements. And so that was the first seed of, well, Maybe we will break away, maybe we will do our own thing.
There was that very memorable moment when Meghan did the TV interview in southern Africa where she spoke about some of the difficulties that she'd been through throughout her pregnancy. At that point, Harry and Meghan were so beaten down through the various challenges they had faced — they'd already also launched those three legal actions against British tabloids — and they were desperately trying to figure out how to make the situation work.
It's a shame, because the signs were there internally for a very long time.  They really made it known what their grievances were, but it often fell on deaf ears.
What was the most difficult period for them that you witnessed?
It was around the time that there was this obsession with Meghan's father. There were stories about her parents appearing in some of the tabloids almost every day. They had followed Meghan's father to a Home Depot and taken a photograph of him buying a toilet, and made a joke that it was his throne. There were photos of Meghan's mom, Doria, going to a laundromat, and there was a very sort of ugly narrative around that. Meghan had already been called "straight outta Compton" at that point. We saw editorials talking about Meghan's "exotic DNA" and talking about how she would "water down the blue blood" of the royal family. There was a commentary piece talking about how strange it would be for Meghan's dreadlocked and nose-ringed mom to sit down and have tea with the queen.
And at the same time, the people that were responsible for writing and saying a lot of these things were somehow being enabled to do so. There was almost a thirst for more of it. As a mixed-race Brit on the royals beat I was ashamed to even be connected to it.
Do you think it's possible for the royal family to embrace anyone who is different? And by different, I mean: not white, not British, not royal by blood — or do you think these prejudices run too deep? 
When we look at the immediate royal family, I think they clearly did support Harry and Meghan to some extent. Unfortunately the institution itself is not built to handle someone coming in who is different, or is as dramatically different as Meghan was.
And it's a shame because I think the royal family had this incredible chance to be seen as inclusive and diverse and progressive. And that's gone now, ending a very short chapter for the monarchy.
Finding Freedom is available wherever books are sold.