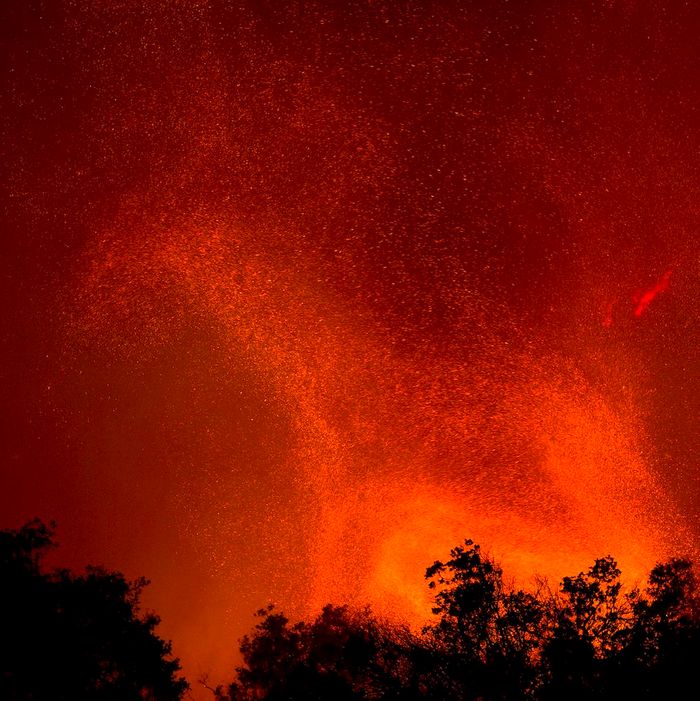 A fire tornado seen in California in 2016.
Photo: DAVID MCNEW/AFP via Getty Images
It's fire season in California, where formidable blazes have burned steadily for days, in some cases weeks. Over the weekend, temperatures soared into the triple digits in certain parts of the state, the combination of a searing heat wave and sprawling wildfires creating some uncommonly freaky weather. On Saturday, the National Weather Service reported "extremely dangerous" fire activity near the Loyalton fire in northeastern California, close to the Nevada border. A "firenado," or fire tornado, had formed, the result of rising heat and changeable winds that pull flames, smoke, and dirt into a menacing vortex.
"The big concern is that it's extremely erratic fire behavior," John Mittelstadt, a Reno-based meteorologist with the NWS, told NBC. "For any of the firefighters who are working on one flank of the fire, all of a sudden, there is no way to predict what the winds are going to do or how strong they are going to be."
The Washington Post reports that, on Saturday, the Loyalton fire "produced a smoke plume that towered 30,000 feet high and began spitting out lightning strikes." It then began to rotate, with winds gusting up to 60 mph, per NBC. Unsettlingly, the Post adds, Doppler radar for the area recorded at least five potentially "tornado-strength vortices" between 1 p.m. and 3 p.m. PST.
Although they are rare phenomena, fire tornadoes occurred during Australia's devastating bushfires, and have occasionally cropped up during Californian fire seasons. According to Mittelstadt, the "grandaddy" of all firenados hit during the 2018 Carr fire, which killed eight people (a firefighter and bulldozer driver included) and incinerated over 1,000 homes in Northern California.
So far, the Loyalton fire has burned over 20,000 acres, the Post reports, and across the state, there are more than a dozen wildfires currently alight — seven of them large. Southern California, near Los Angeles, has experienced highs between 100 and 112 degrees over the past few days. With hot, dry temps roasting the state, Mittlestadt warned: "These conditions can lead to more firenados for sure. Everyone needs to be very alert and very careful not to create any sparks so that we can avoid any human-caused fires."