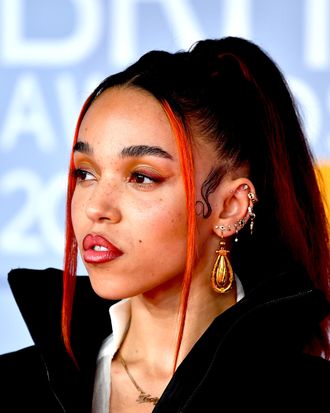 FKA Twigs.
Photo: Gareth Cattermole/Gareth Cattermole/Getty Images
On Tuesday, FKA Twigs dropped a new music video with squeaky-voiced rapper 645AR, in which she plays a cam model; maybe not coincidentally, she also launched a fundraiser for sex workers in the U.K. whose incomes have been dealt a blow by the coronavirus pandemic. The GoFundMe initiative, which she announced on Instagram, will benefit SWARM Collective, Lysistrata, and the East London Strippers Collective.
FKA Twigs is a stunning pole dancer — a "prodigy," as her trainer for the music video "Cellophane" put it to Nylon — an in the caption of Tuesday's post, explained that she learned her first move at age 19, while "working as a hostess in a gentleman's club." Hostessing, Twigs added, "is when one person pays another person for their time, anything from a conversation over dinner to sex work, and the club gets a cut of the fee." She continued:
My lived experience as a very young woman in these environments has not only informed the strong and formidable woman that I am today, but also a lot of my work as a music and visual artist — sometimes even subconsciously.




I feel like now is the time for me to step forward, pay respect, and shine a light on the challenges facing sex workers, especially during these uncertain times. Sex workers I know and have met have discipline, craft, talent and work ethic — not only do they deserve better long-term, but their income has been wiped out by the lockdown and many are invisible to the financial aid available to others.
As much of the world retreated into coronavirus lockdown this past spring, and clubs of all kinds began shutting their doors, workers whose livelihoods necessitate human contact suffered badly. Often unable to see clients in person, and — at least in countries that criminalize sex work, like the U.S., which specifically barred small businesses that "present live performances of a prurient sexual nature" from its Paycheck Protection Program — largely ineligible for government aid, many sex workers have found themselves with drastically reduced income for months.
The stigma that still clings to the industry makes sex workers vulnerable in non-pandemic times, particularly those who already face discrimination for their race, sexuality, gender identity, and/or immigrations status: Transgender people; people of color; indigenous people; and undocumented people are all disproportionately targeted by police, and disproportionately likely to experience homelessness. In addition to starting the GoFundMe campaign with a with a £10,000 ($13,083) donation, FKA Twigs says she's handing over her social media channels to Lysistrata, SWARM, and ELSC, part of "a bigger journey in challenging public attitudes … and fighting for rights and protections."