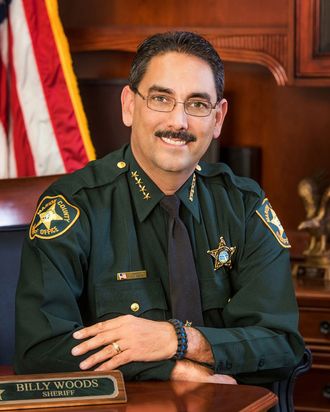 Photo: Marion County Sheriff's Office
A sheriff in Marion County, Florida, has taken America's stupefying face-mask controversy to new heights by banning them. The sheriff, Billy Woods, issued an order prohibiting his deputies from wearing face masks at work. Even visitors to the sheriff's office will be required to take off their masks in the lobby.
"We can debate and argue all day of why and why not. The fact is, the amount of professionals that give the reason why we should, I can find the exact same amount of professionals that say why we shouldn't," he wrote in an email to the sheriff's department. "This is no longer a debate nor is it up for discussion."
Hey Sheriff Billy, here is a brief fact-check on what is actually no longer a debate: For one, the efficacy of face masks — which a majority of health experts and epidemiologists agree are key to curbing the spread of the coronavirus. Here is another: Florida's unrelenting coronavirus infection and death rates, which continue to hit record highs across the state, including in Marion County, which surpassed its own daily death record on Tuesday.
The sheriff cited recent protests against police brutality as his reasoning for banning the masks. This echoes a larger fight going on in Marion county. The mayor of its largest city, Ocala, recently vetoed an emergency mask order passed by the City Council. "In light of the current events when it comes to the sentiment and/or hatred toward law enforcement in our country today, this is being done to ensure there is clear communication and for identification purposes of any individual walking into a lobby," Sheriff Billy said in his email.
Perhaps the sheriff feels protected by his mustache — which I will say just barely passes recommendations by the CDC for men who wish to keep their facial hair without reducing the efficacy of their face masks. Sheriff Billy looks like he is sporting a thicker pencil shape, bordering on painter's brush, possibly walrus, all of which are technically allowed. That should help him come to terms with the very obvious thing he needs to do, that I cannot believe still has to be said at this point: Put on a f–ing mask.