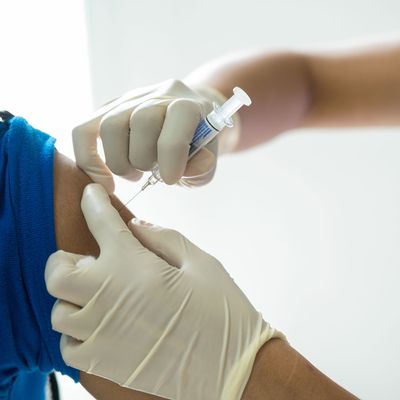 Photo: Kmatta/Getty Images
With fall and winter around the corner, and the number of COVID-19 cases and deaths remaining steadily high across much of the U.S., the New York Times reports that public health officials are scrambling to prevent a "twindemic" — a nightmare scenario in which a severe outbreak of the flu erupts alongside the COVID-19 pandemic, overwhelming hospitals, and rendering the novel coronavirus even deadlier than usual.
As Dr. Anthony Fauci, director of the National Institute of Allergy and Infectious Diseases and one of the leaders in the national fight against the coronavirus pandemic, said in an interview with MarketWatch in July, having two infectious respiratory illnesses circulating at the same time would be "problematic and complicate things," with each one potentially aggravating the effects of the other. That's why, Fauci said, "we're telling people that, when the flu vaccine becomes available, make sure you get vaccinated so that you could at least blunt the effect of one of those two potential respiratory infections."
Public health officials are therefore trying to make the flu vaccine available early and widely. The CDC, for example, which usually purchases 500,000 doses of flu vaccines a year for uninsured adults, has ordered an extra 9.3 million doses to distribute this year. And in August, the University of California system announced that it would be requiring all members of the UC community — students and staff alike — to get a flu vaccine before November 1, 2020.
As the Times noted this weekend, though, there are significant challenges to getting the flu vaccine to people during a pandemic. Firstly, many of the places where people usually got their flu vaccines, like offices and schools, are shut down now. That means that this fall and winter, pharmacies and supermarkets are expected to shoulder the burden of providing the vaccine, with Walgreens and CVS announcing that they will both have flu shots available starting this week.
Additionally, there is some skepticism about the safety and effectiveness of the shot, which the Times describes as "a good vaccine but not a great one." It's usually about 40 to 60 percent successful in combatting the strains of flu that appear any given year, depending on a variety of factors.
Still, as Patsy Stinchfield, the senior director of infection prevention at Children's Minnesota, and a member of the CDC's influenza work group told the Times: "Hopefully people will say, 'There's no COVID vaccine so I can't control that, but I do have access to the flu vaccine and I can get that.' It gives you a little power to protect yourself."