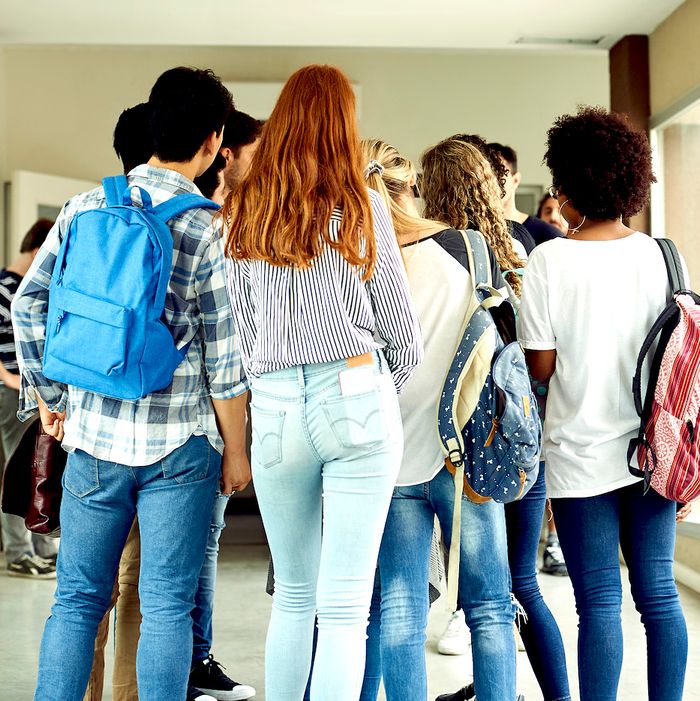 A Georgia high school (not pictured) has recorded nine coronavirus cases days after photos of its packed hallways went viral.
Photo: PhotoAlto/Frederic Cirou/Getty Images/PhotoAlto
Last week, arresting images of the jam-packed hallways at Georgia's North Paulding High School went viral. Chillingly enough, very few of the students featured in the photos appeared to be wearing masks — a fact that did not make the school look very good, and briefly got the photographers suspended, until "significant national interest" intervened. But now, less than a week after kids returned to class, the Atlanta Journal-Constitution reports that at least nine coronavirus cases have cropped up at the school.
"At this time, we know there were six students and three staff members who were in school for at least some time last week who have since reported to us that they have tested positive," reads a letter from North Paulding High School principal Gabe Carmona, sent to parents on Saturday and obtained by the AJC.
The letter makes no mention of making students wear masks, or suspending in-person education; it simply asks parents to perform temperature checks on their children twice daily and monitor them for symptoms. Carmona also notes that administrators "anticipated COVID-19 would impact us as it has nearly every other community."
President Trump has been adamant that schools reopen this fall, even as public-health experts warn him that adopting a business-as-usual attitude would put schools and universities at "highest risk" for viral spread. The coronavirus pandemic is nowhere near contained; indeed, the COVID-19 case count in the United States has now topped 5 million, with nearly 2 million of those cases having cropped up in July alone. Georgia — where schools have only been given safety guidelines, rather than mandates — is among the states experiencing a resurgence in infections. In the past week, the state has recorded 22,474 new cases, for a total of 197,308 cases so far.
In Paulding County, many students who want to continue virtual study from home have reportedly been placed on a waitlist, and until they come off that list are obligated to show up in person or risk having their enrollment withdrawn. Meanwhile, the school system says it "will encourage students, teachers, and bus drivers to wear masks," with the caveat that "wearing a face mask is a personal choice."