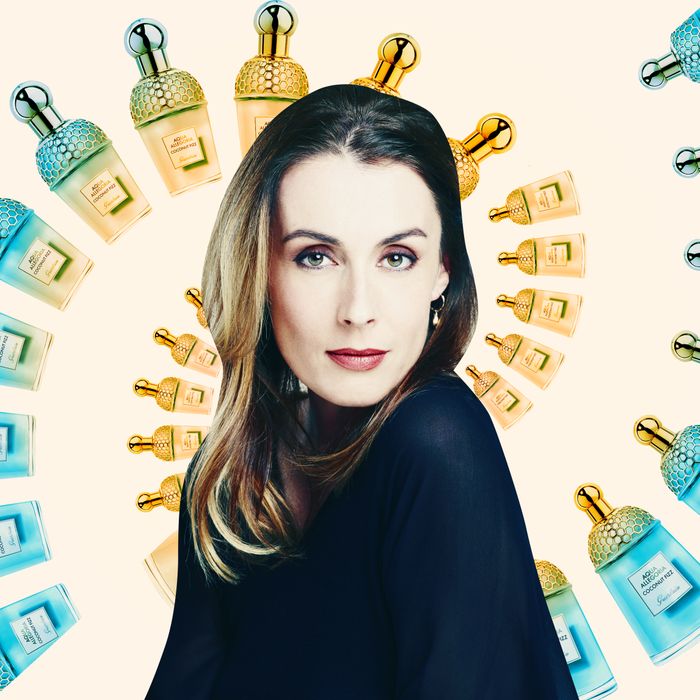 Delphine Jelk.
Photo: Courtesy of Guerlain
Scientific studies confirm that of all the senses, smell offers the best recall. In Scent Memories, the Cut asks people about the scents they associate with different times in their lives.
Next up is perfumer Delphine Jelk, one of the noses responsible for Guerlain's Aqua Allegoria collection of cheerful, citrus-inspired scents. This summer, Delk and Guerlain's master perfumer Thierry Wasser added two new fragrances to the family: Orange Soleia, which smells like a Sicilian citrus grove, and Granada Salvia, which smells like a crisp pomegranate. The Cut recently caught up with Delk to talk caramel, coconuts, and countrysides.
My first scent memory is: The smell of my mother's skin. I don't know if it's real, or if it's just a fantasy, but I think I have a memory of being born.
Happiness smells like: A baby. I will never forget the smell of my baby's neck — that milky, musky smell.
Love smells like: It depends. The first thing I think of is flowers, because they are associated with romanticism, poetry, and, as a result, love. But it can also be the smell of the one you love, and it's crazy how when you change your love, you can't smell the smell of that person anymore. Love should also smell like freedom, which to me smells like a rose. It's my favorite smell, and something I love to work on. Love is always in the heart of all my creations and I believe you have to feel good to create, so rose is always very present.
Heartbreak or loss smells like: Something woody and smoky to signal the end of something, like a flame that's gone out.
Success smells like: La Petite Robe Noire. It was a big success and it was my first adventure for Guerlain, so it holds something special for me. That smell is a very good memory.
Regret smells like: Grapefruit, something bitter.
My favorite food smells like: Caramel. I don't care what it's on, or what form it's in — I love it.
My ideal vacation smells like: Coconut Fizz, which is part of the Aqua Allegoria collection. It smells like the promise of a good vacation to come.
My home smells like: Candles. Right now, I'm working on candles, so I'm trying a lot of them every day. One day it's orange flower, another day fig … I'm also working on very green, country smells as well. My kids are not home, so it smells more perfume-y than usual; not so much like food, which it often does when four kids are around.
The first thing I smell in the morning is: My kids again, because they like to come into my bed before I wake up. Even though they are all not babies now (I just have one baby at the moment), I still love their smell.
The last thing I smell at night is: Mint. I keep fresh mint on my windows, and I love to drink fresh mint in hot water before I go to bed. It always makes me feel better.
I smell like: Right now, fresh and clean, but there's some character there. I'm wearing a trial I'm working on. It smells like very fresh rose, a little aquatic, with some pear notes, and very, very musky. It's a shame you can't smell it through the computer, it's too early. But one day!