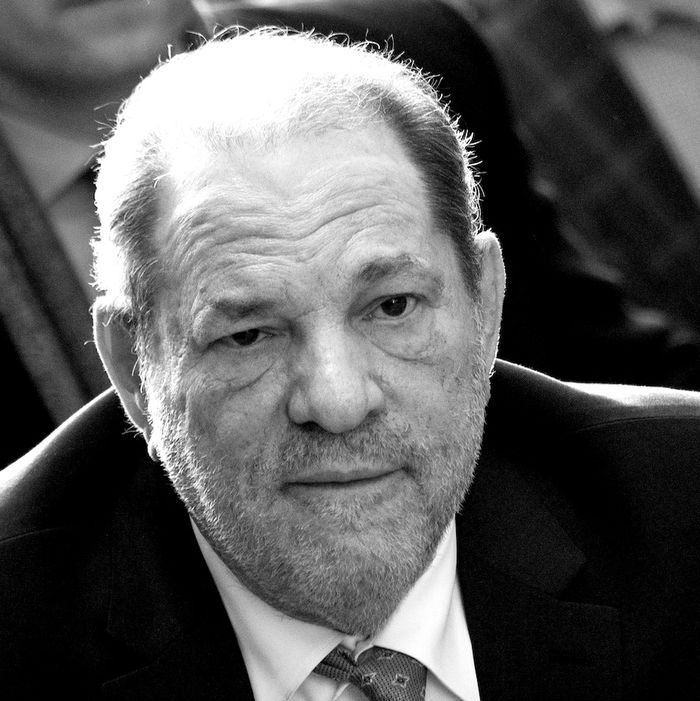 Harvey Weinstein.
Photo: JOHANNES EISELE/AFP via Getty Images
Convicted rapist Harvey Weinstein faces yet more sexual abuse allegations — this time, from a woman who says the disgraced producer repeatedly attacked her at industry events over the course of nearly a decade and, on one occasion, raped her.
The woman goes by Jane Doe in her lawsuit, filed Friday. Per Variety, Doe cites the same federal sex-trafficking law other plaintiffs have used in accusing Weinstein of leveraging professional favors for sex. The latest of his alleged victims says Weinstein first targeted her at the Cannes Film Festival in 2007, when she was 22 and trying to break into Hollywood. Doe says Weinstein set up a meeting at the Majestic Hotel, where he was staying. His assistant was also supposed to be present, but left his suite shortly after Doe arrived. At that point, the suit contends, Weinstein "clutched Plaintiff and tried to force her into massaging him. When Plaintiff refused to massage him, Weinstein continued to grope Plaintiff and tried to take off her clothes."
Doe managed to get away from Weinstein that time, but according to the lawsuit, this was not the last of their encounters. During the second, he reportedly groped her and masturbated in front of her, and during the third, Doe says he "used his considerable size and strength advantage to pin Plaintiff down and rape her" after bringing her back to his hotel room.
According to Variety, Weinstein then "pursued" Doe to another city, where he sexually assaulted her during a meeting that was supposed to be about advancing her career. He reportedly flew her to Paris, New York, Capri, and Venice to introduce her to powerful people in the industry, and in 2009, allegedly paid to bring the woman and her mother to the Sundance Film Festival. There, according to Variety, he "demanded" Doe engage in a threesome with him. When Doe refused, she says she found herself blacklisted at big events and talent agencies. According to the lawsuit, when she eventually agreed to meet with Weinstein again in 2012, he assaulted her. Doe says two subsequent meetings, one at the Toronto Film Festival in 2014 and one in Los Angeles in 2016, also ended in assault.
Weinstein is currently serving a 23-year prison sentence, following his February conviction on charges of rape and committing criminal sex acts. Although upward of 100 women have accused Weinstein of behavior eerily similar to what Doe describes — luring them into hotel rooms under the auspices of discussing professional opportunities, but instead forcing himself on them; engaging them in coercive relationships; and, in some instances, raping them — only six women testified against him during his high-profile New York trial. Despite serving what may well amount to a life sentence, the 68-year-old also faces multiple lawsuits in Los Angeles, in addition to a New York City lawsuit filed by four alleged victims in May. The suit filed Friday seeks a jury trial.