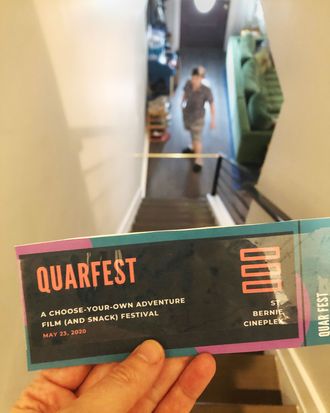 Photo: @sallytamarkin/Instagram
We're five-ish months into the coronavirus pandemic, and things are getting pretty dire. Summer, somehow, is almost over, and many of the sources to which we normally turn for comfort and pleasure in trying times are unavailable to us. Central among them: movie theaters. On a hot afternoon in August, there are few better reprieves than sitting in a dark, frigid theater to watch a too-loud, big-budget blockbuster while you eat candy and drink a bucket of Diet Coke. But for now — and for the foreseeable future — movie theaters are closed. Fortunately, there is an alternative.
Last month, writer T Kira Madden (author of the very good memoir Long Live the Tribe of Fatherless Girls) tweeted that her wife, Hannah, had surprised her on her birthday with a meticulously re-created "movie theater experience," complete with usher outfit, snack menu, and obligatory student-film pre-roll. Like servers do at Nitehawk in Brooklyn (their preferred theater pre-quarantine) and the Alamo Drafthouse, Hannah even took T Kira's order in the dark, crouched over her seat.
For the movie, Hannah chose Hulu's Palm Springs — because, Madden told me, an authentic moviegoing experience involves seeing something "new and potentially mediocre rather than an old fave." Madden's Twitter followers replied with crying emoji and praise for her wife's attention to detail, and Madden says their "silly home theater" helps fill a gap opened by the COVID-19 shutdown. Prior to the pandemic, Madden says, she spent as much time in movie theaters as possible.
My friend Sally Tamarkin, features director at SELF magazine, also happened to create a movie-theater experience for her wife, Andrea, not too long ago. (As a lesbian, I wonder: Is this a lesbian thing?) For Sally, the gesture was more about livening up their home life than movie theaters in particular. (Romantic overachievers, they've also done coffee-shop and hotel-bar pop-ups for one another.) "We needed SOMEthing to mix it up," Sally told me. "So I went online and downloaded templates for tickets and menus that had nice designs, and I made tickets for 'Quarfest 2020.'"
Sally, too, offered a menu of snack options, and played a movie-trivia and Coke-commercial pre-roll she found on YouTube. While Andrea watched the ads, Sally made the nachos and margarita she'd ordered. "The preshow feel was by far [Andrea's] favorite part of the entire experience," she says. As an added bonus, Sally let Andrea pick the movie; normally, their movie-selection process involves more compromise. (Andrea chose Lock, Stock, and Two Smoking Barrels.)
The best part about the re-created movie theater, says Sally, is that it also provides purpose for the planner. "Preparing gives you something to do, so the only benefit isn't JUST enjoying the finished product — it's also thinking of things to do for it and executing them," she says. "ANY novelty, even two hours of novelty, feels amazing during quar."
My own wife and I aren't so big on props, but this past Sunday, we schlepped our 55-inch smart TV out to the patio of my mother-in-law's house, where we're currently living. Lydia had spent the afternoon cleaning her mother's long-unused grill, and we wanted to put it to use. So while she grilled burgers, we drank Bud Light Limes and watched Underworld, the 2003 vampire-werewolf, horror-action hybrid starring Kate Beckinsale. The movie was bad, and, despite the citronella candles, the mosquitoes were out in full force. In that respect, it was not unlike being at a drive-in movie. Most important, it was something different. We plan to do it every Sunday.