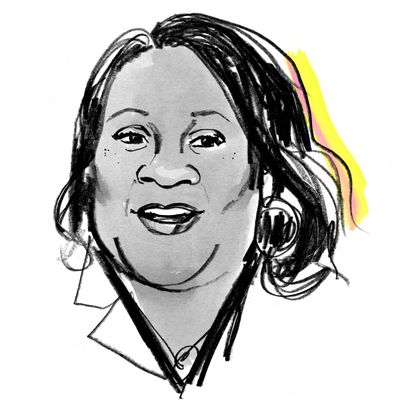 Dana Canedy.
Illustration: Lauren Tamaki
In July, Dana Canedy was named senior vice-president and publisher of Simon & Schuster. Previously, she was the administrator of the Pulitzer Prizes, where she helped to push the organization to recognize more diverse voices, including Kendrick Lamar and Ida B. Wells. Before that, she spent two decades as a reporter and senior editor at the New York Times, and was part of the team that won a Pulitzer Prize in 2001 for its ambitious series, "How Race Is Lived in America." She also published the memoir A Journal for Jordan, about her late fiancé First Sergeant Charles King, who died in the Iraq War. She lives in Manhattan with her 14-year-old son, Jordan, though recently she's been spending most of her time at her summer home on the Jersey Shore. Here's how she gets it done.
On a typical morning:
I typically wake up at 6:30 or 7 a.m. and check the news. I go to sleep checking the news and wake up checking the news. Normally, during the school year, a typical morning is figuring out a way to get my son and I dressed and fed, and the dog fed and walked, and out the door in one hour. By the time I do that, I almost feel like I've earned the right to come home and start over. I'm not a big breakfast person — I usually just have a piece of fruit and coffee or tea.
On staying organized:
I keep lists, and I keep everything on my phone, but I also have a work assistant and a personal assistant. I rely on them a lot. If I had to do the grocery shopping or pick up the dry cleaning every week, I couldn't do it. Actually, the things that tend to fall through the cracks have to do with my son's school schedule. I can't tell you the number of times I've almost sent him to school on a holiday or forgot a parent-teacher conference.
On being a Black woman in publishing:
For me, there's no pressure in being the first Black person or Black woman to do something. For the most part, I spend my days thinking about other things: What are the things I need to accomplish today; who do I need to support; what can I champion? The way I see it, I bring many things. I bring being a Black woman, a mother, and I'm a person of God, from the Midwest, and from a military family. I also bring my experience as a journalist, as an editor, and as an executive.
As for my vision at Simon & Schuster, I want to increase the diversity of staff and of our authors and our books. Selections will be a huge part of that, but I'm not gonna lie and say that I have it all figured out right now. I want to cast a wide net and be a lot more inclusive. I think the industry overall needs to be broader in terms of what it considers to be a valid voice. There are some authors that I know I'd like to sign to Simon & Schuster who are authors of color. But I want diversity to include voices from the LGBTQ community; I also want geographical diversity.
On making big career changes:
When the stars align and you make a big change in life, you quite often have to take a leap of faith. I wasn't looking for the Simon & Schuster job — I just knew, when I accepted it, that I really wanted to do it. Also, whenever I've considered anything from a career move to whether I wanted to have a child, my faith comes in. I pray on things, I get a lot of opinions, and then I try — and this is the most difficult part — to hone in on my voice. Once I make a decision, I don't believe in looking back — and I have no regrets in my career. My only regret is that my fiancé and I didn't have a chance to get married before he was killed in the war in Iraq. That's the greatest regret I have in my life.
On grief:
I've said often, and I believe this deeply, that grief is a process. You survive one heartbeat at a time, one breath at a time. The thing that surprised me the most about grief when I went through it was how physical it is. It literally hurts. It's literally hard to breathe. I was also surprised, though I shouldn't have been, by how long it takes to get through it. There are no shortcuts. In the beginning, success for me was just getting off the floor; then, getting out of bed. Sometimes, what you need to do is just sit still and let it wash over you until you're ready to push forward.
And then, at the other end of it, there's guilt — when you finally realize, gee, I think I'm happy again. I went through a period of feeling really guilty about being happy. With time, you work through all of that, and today, I'm at a place where I'm almost as happy as I've ever been. I always say that with an asterisk, because my Charles isn't here, but my son and I are so blessed and so happy. And I never would've thought I'd be able to say that.
On raising a Black son:
We're so close. Even during the pandemic, we have so much fun: We laugh, we have dance offs, we have movie night. Right now, at my summer home on the Jersey Shore, he spends his day surfing, and we cook seafood together at night. So, we enjoy each other.
I'm very honest and open with him. He's incredibly inquisitive about politics and race, and he's at the age now where I tell it to him straight. We've had "the talk" about how to conduct yourself with the police, and I've given him all the rules. But as he's gotten older, I've updated the conversation. A few years ago, I talked to him about keeping your hands on the wheel if a cop stops you, and not reaching for anything without the permission of the officer. Rules that we have to live by. After the death of George Floyd, I told him that there may be some police officers, but not all, who might want to provoke him if they're not getting the response they want. And I told him that he can never let that happen.
On decompressing:
Is that a thing? I can't remember the last time I did that. I suppose if I did recently, I guess I'd say it was time I spent at the beach, watching my son surf. Those are my two favorite things in life.